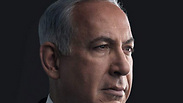 Benjamin Netanyahu was selected as one of Time magazine's 100 most influential people in the world in an issue published on Thursday, a month after being elected prime minister for the fourth time.

Netanyahu was one of the 30 individuals featured in the "Leaders" category, which also included Hillary Clinton, Vladimir Putin, and Raul Castro, and Marine Le Pen, among others.

The person chosen by Time to write about Netanyahu was former prime minister Ehud Barak, who has been both a political partner and a rival.

Barak wrote that he knew "Bibi" decades ago, when the latter was under the former's command in the IDF. "Chickensh*t he is not," wrote Barak, referring to a 2014 incident in which an anonymous US official used the term to describe Netanyahu as a coward.

But Barak added that Netanyahu has over time become "pessimistic, passive and anxious".

The former prime minister opined that Netanyahu is "basically right" about Iran and the region, but added that "he can fail to seize opportunities, and on the Palestinian question he grossly ignores the slippery slope awaiting Israel in the form of a one-state solution."

Barak also alluded to the strained relationship with the White House, writing that he must "swiftly heal wounds opened by his campaign" and improve his relationship with US President Barack Obama, as well as pushing for "a tougher policy, and even, if needed, an attack against Iran".

Barak won a landslide victory against Netanyahu in the 1999 general elections. When Netanyahu was prime minister in 2009, he appointed Barak as defense minister, a post he held until 2013.