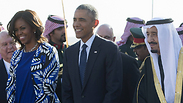 Michelle and Barack Obama with Saudi King Salman in Saudi Arabia
Photo: AFP
US President Barack Obama has invited the heads of Gulf Cooperation Council countries to the White House and then to Camp David. Negotiations over Iran's nuclear capabilities and the turmoil in Yemen are topics high on the agenda.
The White House said Obama will meet with the leaders of Bahrain, Kuwait, Oman, Qatar, Saudi Arabia, and the United Arab Emirates in the White House on May 13 and then at Camp David, the presidential mountaintop retreat in Maryland, on May 14.
Obama has portrayed the Iran deal as necessary to reduce the chances of the combustible Middle East becoming even more unstable with the introduction of a nuclear-armed Iran.
Sunni-ruled Saudi Arabia fears its regional rival Iran, which has a Shiite government, will continue to develop an atomic bomb after the sanctions that are strangling Iran's economy are lifted.
The Saudis have made veiled threats about creating their own nuclear program to counter Iran.
AFP contributed to this report.