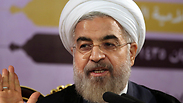 Iranian president Hassan Rouhani.
Photo: AP
Iranian President Hassan Rouhani is harshly criticizing Saudi Arabia, warning that the Saudi royal family in Riyadh will harvest the hatred it is sowing in Yemen through its airstrike campaign and calling their involvement a 'disgrace.'

Since March 26, the Saudi-led coalition has been attacking Shiite rebels known as Houthis and allied fighters loyal to Yemen's ousted President Ali Abdullah Saleh. Iran supports the rebels but denies providing any military support.

Addressing an army parade in Tehran, Rouhani said killing civilians in Yemen will bring neither power nor pride for Saudi Arabia. His speech was broadcast live on state TV Saturday.

"Other countries must learn from the Revolutionary Guards how to prevent conspiring in the region. We will do everything to achieve peace, stability and security and we will protect the un-protected in Yemen," said Rouhani.

Despite Iran's call for peace, it is being credited for also being involved in the Yemen conflict - but on the opposite side. According to a Wall Street Journal report, the US army has foiled smuggling attempts from Iran to Yemen intended to transfer equipment to Houthi rebel fighters.

The Iranian government continues to deny that it has been helping the Houthi rebels who have caused President Abed Rabbo Mansour Hadi.

Meanwhile, Iran presented on Friday a four-point plan to end the conflict that includes humanitarian aid, dialogue and the formation of a broad-based Yemeni unity government after a proposed cease-fire was already rejected by Saudi Arabia.