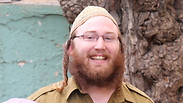 Elad Selah
Photo: Motti Kimchi
Corporal Elad Selah sits next to his lawyer, Adi Kedar, on a wooden bench in a small courtroom in the Jaffa Military Court, twirling his payos (sidelocks worn by Orthodox Jewish men). They are listening to the Military Prosecutor's representative reading out the charges against Selah, including a charge of serious espionage.

Selah, 25, is smiling to those around him at the courtroom, a mischievous spark in his eyes. He wears long payos and a large wool kippah (skullcap) on his head. He looks completely harmless.

But the indictment filed against him this week tells an incredible story with him at its center - him, and a massive security breach in the Military Intelligence's computer system.

Selah used this breach to read some 15,000 documents at the highest levels of security classification.

Selah, a resident of the Bat Ayin settlement in Gush Etzion, served in intelligence research in the Etzion Territorial Brigade, some five minutes away from his home.

The skills he acquired as part of his job in intelligence research gave him the tools to construct a wide-reaching and in-depth intelligence picture from pieces of information based in different sources, both known and clandestine. The IDF, in fact, taught Selah how to research intelligence; and the studious student, according to the indictment, used it to help suspects in so-called "price tag" attacks - revenge attacks by Jews against Muslims.

All of the information Selah systematically collected dealt with prominent radical right-wing activists, the kind police and the Shin Bet have been waging a frustrating battle of wits against for years, without much success. Thanks to the intelligence he collected, these activists were always a few steps ahead of security forces.

Some of the relevant information was printed by Selah at the Etzion Division's intelligence headquarters. He showed the printed reports to his friends in Bat Ayin, the suspects in question. On more than one occasion, he allegedly asked the person who received the information from him to burn it. Another document, according to the indictment, Selah himself tore to pieces and burned.

Police first started suspecting an intelligence leak after the AlHuda Mosque in Jab'a, a village near Bat-Ayin, was set on fire two months earlier. Worshipers who arrived at the mosque for morning prayers put out the fire and found Hebrew graffiti and a Star of David sprayed on the mosque's walls.

"We launched an investigation," says Superintendent Erez Amuyal from the Nationalist Crimes Unit. "When we went on an undercover mission, it failed. Meaning, we came to the suspects in Bat Ayin, and they weren't home. We launched an internal intelligence probe, and at first we didn't know who the source of the leak was.

"As we investigated further, we identified the leak was coming from an intelligence source who has access to the information and is well-versed in the details. He knew who we were going to arrest, for what, and when. The information was so classified it was obvious to us this was a soldier or a policeman with access to intelligence."

Selah was not known to police and until recently, he wasn't known to the residents of Bat Ayin either. Both of Selah's parents work in education and belong to the mainstream national religious Zionism. Selah himself has become more religious, and became involved with the Breslov Hasidic group. He joined the IDF in November 2013 and was stationed in the Central Command's base in Jerusalem. He moved to Bat Ayin with his family a year ago in order to be closer to his wife's parents in Efrat. This change also led to his transfer to the Eztion Division headquarters.

His acquaintances describe him as one who loves to demonstrate his knowledge, lovable and very open.

He is "a person who has no restraint when speaking," one of them says. "He's exactly the type I would not recruit into Military Intelligence ... because he's a man who chatters freely."

His relatives describe him as a student with remarkable learning abilities and phenomenal memory for names and dates. "His curiosity is infinite," his brother-in-law, Avi Sherf, says. "He reads a lot and fast and remembers everything. I don't know if the claims he read 15,000 documents are true, but it makes perfect sense to me."

Sherf also paints a picture of a diligent soldier, gifted and hard-working.

"His abilities also won him the appreciation of his commanders. Several days before he was arrested, Palestinian terrorists were arrested thanks to his hard work," Sherf says. "He gave his all to his work in the army. Many times, instead of going home to his family, he stayed at base for longer than required."

That very same dedication Selah showed, according to the indictment, to radical right-wing activists. He gobbled up the vast amounts of secret information in only three months in searches he conducted between December 9, 2014 and March 10, 2015.

This was information he wasn't even authorized to search - highly classified and taken from the databases of most of Israel's security institutions. Any other country, even Israel's closest allies, would be willing to pay a fortune for this kind of access to the most sensitive of secrets.

Police says the IDF will have to examine its conduct in light of this massive breach. It was revealed that the IDF didn't even ask the Shin Bet to look into Selah's background before giving him security clearance, which appears to be the biggest failure in this affair and is expected to lead to an investigation that would embarrass the army even more.

In those same three months, Selah allegedly read information about the Hilltop Youth - a group of extremist settlers, what police detectives knew about each suspected price tag perpetrator and what they intended to do about each target.

"He realized he could get any information and he became addicted to it. The scope he reached was insane," Superintendent Amuyal says.

"He became obsessed, it took up all his time," another police investigator says. "He'd stay at night to read more and more material."

The indictment details Selah's crimes, starting with a search he conducted in early December regarding A.M., a minor from Bat Ayin. Selah found a report saying the teenager is suspected of planning to commit a price tag attack and is therefore a target for arrest. Selah printed out the report, took it out of the base, and gave it to A.M.

When he returned to the intelligence headquarters, he started searching the names of all of his neighbors who are suspected of terrorist activity and gathering any piece of information he could find in the system about them.

Near mid-December, Selah's neighbor S.A., also a minor, returned to Bat Ayin after an administrative removal. Selah offered to check what the defense system knew about S.A., and S.A. jumped at the opportunity.

In four days in mid-December, Selah conducted 12 different searches of secret documents, and then updated S.A. on the intelligence gathered against him, including information on many suspicions against S.A. - stabbing an Arab man, vandalizing Bat Ayin's fence, committing price tag attacks, throwing stones at Palestinians, and violent rioting. Selah even provided S.A. with information about seven of his friends who were also being watched by the Shin Bet and the police.

Later, Selah discovered the name of the people the police suspected of throwing a firebomb on a Palestinian taxi near Bat Ayin in August 2012, an attack in which six residents from the village of Nahalin were wounded. He printed out the information, called the two suspects to a public park in Bat Ayin and showed them the documents.

But the crowning glory of the indictment is a leak that thwarted a major police raid planned for the morning of March 8. According to the Military Prosecution, Selah warned several suspects in his settlement that police were planning to arrest them.

Detectives from the Nationalist Crimes Unit, who arrived in Bat Ayin to arrest eight settlers suspected of assaulting a Palestinian man two weeks prior, were met with 20 children hurling stones at them, and found the suspects were not at home. The suspects were also not at home later in the day, when police came back for them.

At this point, investigators were closing in on Selah, and he made his final leak the next day. He found out the identities of the suspects behind the arson of a mosque in Jab'a and what proof the Shin Bet had. The suspects were the same two minors, A.M. and S.M. The arson was orchestrated, according to intelligence, by the two minors' neighbor, David Or Shachar.

Selah printed out the information and went to Bat Ayin to deliver it to a friend of the suspects. At the same time, he tried to hack into systems for which he had no clearance to look for information on Shin Bet agents operating undercover in the settlements, in order to expose them.

Selah was arrested at the scene of the crime - intelligence headquarters. He was taken in for questioning in Jerusalem and then transferred to a Shin Bet facility in Petah Tikva.

"We tried a few different investigative tricks to figure him out," one of the investigators said. "He's not detached from reality like he appears to be. He's very sharp and focused, knows what to say, clever. He's no fool at all."

The investigator said Selah was unequivocally "the one person who hurt efforts against price tag attacks the most. In a way, his crimes are more serious than Anat Kam's crimes."

Kam was also convicted of serious espionage herself, and sentenced to three and a half years in prison after leaking to a journalist from Haaretz the contents of some 1,500 documents she took from a military computer during her army service.

Attorney Adi Kedar of the Honenu organization, who represented a series of suspects accused of price tag attacks in the past, expressed surprise at the charges of serious espionage against Selah.

The decision to accuse Selah of serious espionage, Kedar says, "is detached from reality and from the facts."

"Investigators and mostly the Shin Bet are doing everything to cover up breaches in the system, and it's a shame that instead of accepting the soldier's explanations, they decided to translate them to speculations that won't hold up for long," Kedar added.

In Gush Etzion, meanwhile, Selah's brother-in-law says he believes Selah cracked during his interrogation and admitted to crimes he did not commit.

"They call him the Hilltop's intelligence officer and that's absurd... He's gentle, couldn't hurt a fly. He definitely can't hurt the army or the Shin Bet, certainly not intentionally. Perhaps friends asked him if they were under surveillance and he may have helped them find this out, but that's it - and I'm not sure of even that. There's a long way between this and espionage."

The IDF's Spokesman said in response: "The IDF takes a grave view of any violation of the rules of information security, and particularly in the case in question. The issue is under investigation, the lessons and initial conclusions will be implemented, and steps are being taken to prevent the recurrence of similar events in the future."