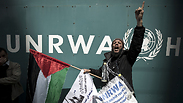 An explosive went off Saturday near the offices of the UN Agency for Palestinian Refugees (UNRWA) in Gaza City, while a second struck near police headquarters. According to UNRWA and Gaza security officials there were no dead or injured.

"A bomb exploded near the outer wall of the headquarters of UNRWA in Gaza, about three meters from the door, causing no casualties or damage," an agency spokesperson, Adnan Abu Hasna, told AFP.

The Hamas-run security forces also confirmed the blast, saying they had opened an inquiry after "two homemade bombs" exploded, one outside UNRWA and a second elsewhere in the city, "which caused limited damage and no casualties."

The incidents took place just hours before members of the Ramallah-based Palestinian cabinet were to visit Gaza.

This is not the first time such blasts have hit the war-torn Gaza Strip, or that UN facilities have been attacked. This January, Gazans stormed the UN's Gaza headquarters after the UN announced it lacked funds to rebuild the war-battered Palestinian territory.

At the time, around 200 people demonstrated outside the UN compound in Gaza City, burning tires and throwing stone, until Hamas broke up the demonstration. The UN blamed Hamas for the attack. Last December, a blast targeted the French Cultural Center in Gaza City without causing any casualties.




Such protests have been further spurred by salary disputes between Hamas and the Palestinian Authority.

Last January, the homes of officials from Palestinian President Abbas' Fatah party were targeted in a series of explosions. No one was injured, but damage was caused to homes and a bomb was found outside a central Gaza square where a memorial for former Palestinian leader Yasser Arafat was planned.

At the time, a local ISIS-offshoot claimed responsibility for the attacks, but their role was never independently confirmed.

Tensions have also spilt over from neighboring Egypt, which has cracked down on Islamists in the restive Sinai region and worked to close the border with Gaza, in addition to labeling Hamas a terror group, further straining conditions in the isolated Strip.

During Israe's summer war with Hamas, Operation Protective Edge, more than a dozen people were killed at a UNRWA school during an Israeli shelling. Israel has cited Hamas' use of UN facilities to store rockets as a reason for targeting them.