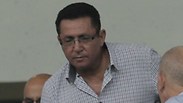 Israel Football Association President Ofer Eini
The Israelis and Palestinians have once again taken politics to the soccer field, with the head of Israel's football association locking horns with UEFA leadership over a Palestinian demand to ban Israel.

Football Association Chairman Ofer Eini and CEO Rotem Kamer will head to Switzerland on Monday to meet with UEFA President Michel Platini. Eini and Kamer's departure comes after FIFA decided to accept the Palestinians' request to discuss the option of suspending Israel from the international soccer organization during a FIFA congress set to be held on May 29.

Attorney Efraim Barak will also join Eini and Kamer on their trip to Switzerland – Barak is the Israeli Football Association's legal advisor and has rich experience in international sports.

Next week, Eini and Kamer will set out to meet the president of FIFA, Sepp Blatter, in order to examine ways to prevent the FIFA congress from voting on suspending Israel from the league or find a way to secure enough votes to delay the Palestinian request.

Eini says: "The Palestinian request is a blatant attempt to mix sports with politics and it comes despite it being clear that the Israeli union did everything it could in order to enable proper athletic life in the PA. With all due respect, we do not set international policy or interfere with security considerations."

"Instead using soccer to bridge between Israel and the PA, which could contribute to rapprochement between the nations, the Palestinian union is requesting to operate by way of boycotts and sanctions which will only exacerbate the situation. The threat on Israeli soccer is real and immediate. We are trying to prevent a situation where a vote will take place in the congress on the basis of the inappropriate request. If this will not succeed – we will work to recruit enough people to oppose so that the request does not pass," says Eini.

Eini also added that the FIFA President Sepp Blatter and President of the UEFA Michel Platini "are true friends of Israeli soccer and I am convinced that they will do everything in order to prevent the suspension of Israel."

The Palestinian Union has previously requested that FIFA suspend Israel from any activity related to the organization after it claimed that the IDF and Israel did not allow the entrance of athletes from Arab nations to enter the Palestinian Authority as well as movement of athletes from the West Bank to Gaza.