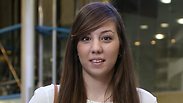 Or Assulin. 'Medicine and the human body have interested me from a young age'
One Saturday night about a month ago, the phone rang at the home of 17-year-old Or Assulin in Acre. Or, who was alone in the house, was shocked by the conversation that followed.
"They told me I was chosen to light a torch on Independence Day," laughs Or, whose name means "light". "I was sure someone was playing a joke on me. I didn't understand who was calling me. They asked me to write down the dates for the rehearsals, so I did."
Or immediately called her parents to tell them, and they were initially skeptical.
"At first we all had questions. It was not an obvious choice, I am barely 17," she says modestly. "The next day the penny dropped. When we started to get calls from media, from people who wanted to congratulate me and wish me good luck - then I realized it was real."
Revolutionary invention
But for the selection committee there were no question marks. Assulin is the youngest of the torch-bearers on Independence Day, the youngest in the history of the country.

"She is a young scientist, creative and a leader, and an example to the younger generation of scientists in Israel," was the reasoning given for the choice. But it all begins, in fact, with a smart box. Three years ago, Or joined the Unistream project, which trains young people in the periphery in business and social entrepreneurship.

Guided by volunteer business people, the trainees set up and operate an independent business venture from start to finish: building a business plan, forming a company, raising the initial capital, marketing and sales. Along with 13 other youngsters, Assulin came up with the "Hot Box"- a device that allows homemade food to be warmed up, without relying on electricity or gas.

"The idea came from our world as schoolchildren who finish studying in the late afternoon and sometimes in the evening. For most of the day we only eat sandwiches, and we're pretty sick of them," she says. "So we looked for solutions that would enable us to take food from home in the morning and warm it up in the evening, without being dependent on heating methods."

How does it work?

"The box is constructed of two levels that fit one inside the other. When you want to eat, you place the food on the upper level and a capsule and half a cup of water on the lower. This is a heating capsule. You screw the boxes back in place and this causes a reaction that heats the food."

How did you come to develop this?

"It took us quite a while - this is the third year that we've been working on it. Initially, we thought about a charging battery. We began to explore ways to produce additional sources of heating, and eventually we found this solution. Now we are at the fundraising stage. We have a prototype and we want to finalize the product design, start an assembly line and sell it."

And you are in charge of the project?

"I am the director general - CEO for the Golden Minds development company. We also have vice presidents of marketing, development and finance. I have to make sure everything is working properly, and everyone knows what they are doing.

"The title of CEO really appealed to me, I wanted to lead the group. I am a girl who loves to give to others and take the responsibility on myself. I am drawn to leadership, but at the age of 14 I didn't know much about the world. I live in Acre, the periphery, far away from the business world. The project allows me to learn new things and develop sides of me that I did not know existed."

In addition, two years ago Assulin also joined the Atidim (futures) organization, which works to promote engineering and science studies for young people with potential in the periphery, including placements in industry and IDF technological units.

"Once a week I go to the ORT Braude College of Engineering in Carmiel, studying biomedical engineering and conducting research on the brain. We explore how to draw active substances (medicines - NB) more efficiently to the brain. I joined this research and we will in the future register a patent, so I can't expand on it, "she says.

How do you connect the business world to the world of medicine?

"They are very different fields. Medicine and the human body have interested me from a young age, and this world very magical to me."
An entire generation
At the Assulin home in Acre, it is hard to contain the excitement.

"My parents are very proud of me," says Or. "My siblings (a brother aged 15 and a sister aged 7) and all my family and friends are proud of me too. I didn't even know that Atidim had submitted my name to the committee on the torch-bearers."

Meanwhile, Or is studying for her high school matriculation in Acre, including the highest levels in biology, English and theater studies.

Has your life has changed following the selection?

"It hasn't changed, it just became busier. I still do everything as usual - preparing for matriculation, studying, meeting with friends; I just have more on my schedule, like rehearsals, interviews and photo shoots."

What was response from your class?

"There was huge happiness. I'm still trying to digest the extent of it, because it is the event of the country."

And your parents? Are they concerned that you have taken on too much?

"Every time I come up with a new project, they tell me: 'Or, it's no problem, you know that we support you – as long as it does not impact on school and you don't feel overwhelmed.' And with every project I show them and myself that I have a greater capacity, I managed to achieve another goal. I didn't always know how to combine it all together, it took a while, and now I think that's true time management is an excellent tool for life."

Do you already know what you want to do when you grow up?

"I know I want to work in a place where I will have an impact, it is important for me to lead and influence my environment. Who knows, maybe in the future I will also be able to push young people on."

What will you be thinking as you mount the stage on the eve of Independence Day?

"I will not go up there as Or Assulin, but as a representative of my generation: a generation of young people who see it is as important to succeed in life, which works to move the country further forwards, to lead us to live in a better world. I go as a representative of an entire generation."