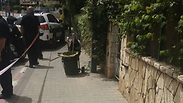 An Arab worker was stabbed in Herzliya on Monday. The 27-year-old resident of northern Israel sustained light wounds. He told detectives that the man who attacked him – who had a Russian accent – yelled "Death to Arabs!" before stabbing him and fleeing.

A Magen David Adom emergency team was deployed to the scene and treated the victim; he was evacuated to a hospital in Kfar Saba. Within hours of the stabbing, police said a suspect had confessed during questioning.

Herzliya mayor Moshe Fadlon condemned the crime: "We will not tolerate violent attacks on any person." He promised to reinforce police patrols using a new unit which he founded.

Last week, Shalom Cherky was killed in Jerusalem when a 37-year-old Arab from east Jerusalem crashed his vehicle into Cherky and another woman at a bus station on the French Hill.

The suspect in the crash claimed it was an accident while police have treated the incident as a terror attack. The suspect was lightly wounded in the event.