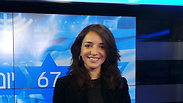 News correspondant Lucy Aharish.
Photo: Idan Arbel
Women chosen to light independence beacon fight for equality
News correspondant Lucy Aharish, the woman who granted females the right to join the air force Alice Miller and drug developer Marta Weinstock-Rosin chosen to light Independence Day beacons, say that women stil face challenges when it comes to career and family life.
The women chosen to light torches this coming Independence Day prefer they didn't still have to prove themselves in this day and age, than be honored for their contribution to the fight for gender equality.

"I wish this category did not exist, that I would not have to be someone who makes a break through in the advancement of humanism and dialogue about equality," says Lucy Aharish, an Arab Israeli news correspondent for Channel 2.

Aharish was chosen to light a torch along with two other women as part of the annual Independence Day ceremony. This year the ceremony will have the theme of "Revolutionary Israelis."

Along with Aharish, Alice Miller, who petitioned the High Court and in doing so enabled women to join the Israel Air Force, will also be lighting a remembrance torch.

The third woman honored with the role is Professor Marta Weinstock-Rosin, a scientist and researcher who developed the Exelon drug for the treatment of Alzheimer's disease which improved the quality of life of many patients.

"Even in 2015, women still have to prove themselves and prove they are equal to men. It is true, there are differences between men and women – it's possible that a guy can change a tire and I can't, but when it is related to aspirations and where we would like to get – there is a saying in Arabic that says 'one hand cannot clap alone, you need the other hand.' We live in an age where a man and a women are both providers, but it is still found remarkable when women achieve a certain standing."

Miller raised her glove and said: "Whoever has a flat tire – call me," and emphasized the trap where women feel they "must be both."

"Even guys find themselves in this trap where they need to be both – help the wife be with the children and be a pilot," says Miller.

Weinstock-Rosin offers that changes should be made so that women can equally compete for positions among men because the ideal time to begin a career is also the time when women are the most fertile and can give birth.

According to Weinstock, everything is related to education. "What is education?" she poses and responds, "Respecting each as they are, as long as they respect you. That is the most important."

The three women also spoke about the perception of the status of a woman as someone who needs to develop a career compared to someone who needs raise children.

"It is very unfortunate to know that people think that the place of a woman is still in the kitchen and somehow has to culminate in raising children and if she does have a career – how she manages to raise children and how she manages having her husband and a relationship," says Aharish.

According to Alice Miller, "Our lives have changed so much during the past year that women find themselves juggling the idea of being a pilot with the natural thing – to give birth to children and raise them…" Miller says that the dilemma between the two is not simple.