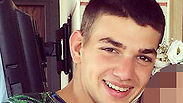 'We were happiest when Daniel was squad leader'
Just before 20-year-old Daniel Pomerantz from Kfar Azar took up his post as the commander of a young squad in the Golani Brigade, he took out a pen and paper and set himself a series of goals: What he demanded of himself as a squad commander, what he wanted to achieve, and what he expected of his soldiers in return. In the shadow of fears that come naturally with great responsibility, he promised himself: "I will give everything to my soldiers."

Two months later, Pomerantz was killed along with six other soldiers in an attack on their vehicle in the Saja'iyya suburb of Gaza City. Revealed for the first time now, are his profound reflections on taking office, offering a bittersweet - and inspiring - look at the promising young commander who fell in Operation Protective Edge.

"What scares me most about when I become squad commander, which characteristics will help me as squad leader, what are my red lines, how much will I be willing to give of myself?" wondered Pomerantz.

For hours he sat and thought, and then carefully and modestly replied in detail to those same questions. The page on which he wrote his thoughts was found after his death.

"I believe that the quality of liking to organize and take care of others will help me," he wrote. "And that I am not afraid to stand up for what I believe."

"What do I need to improve? To stop swearing," he admitted. "What are my red lines? A soldier who does not respect me, does not listen to my orders, gives me the finger and drags other people along with him."

For Pomerantz, it was clear that concern for the soldiers under him was his first priority.

"What would I consider a success in my role? That my soldiers enjoy the army as much as possible, respect me, and leave as good and disciplined troops, the best fighters possible," he wrote.

"How my squad will be different to the others? In comradeship for one another, and that openness and respect are of the highest level, and they not afraid to talk to me about anything."

He did not hesitate to demand of himself over and over: "How much can you give yourself? To my soldiers, I will give everything."

Although he was killed just a few months later, his comrades say that Pomerantz did indeed meet all of his the goals. "Daniel achieved everything he set for himself in the letter," they said.

His friend from the commanders' course, Shlomo Saar, says Pomerantz would "sit for hours to figure out his red lines, where he would give it all; he thought of every question that troubled him in everyday life, and only then allowed himself to answer. It was very important to him."

From the words of Or Peretz, a subordinate of Pomerantz, it appears that the young commander did succeed, as he had hoped, in leaving a deep impression on his soldiers.

"Daniel was like a big brother for all of us. It was possible to talk to him on the same level. He cared for us and did everything to make it better for us," he said. "There were 10 people in the department and he had 10 fans. There was no one who did not like him. The department was happiest when Daniel was squad leader."

Peretz said Pomerantz more than pout himself out for them. "I remember getting very a Saturday on base and I was very upset. Daniel volunteered to be with me that Saturday as he did not want me to be sad, and we spent together the best Saturday I had during my whole army service," he said.

"When we were in the staging area for war, we had a fight. I said to him things that you do not say to your commander, and I was sure he would not forgive me. But a moment later he came to me, gave me a hug and told me he loved me. This will never leave me as long as I live. What a great person. "

Shlomo Saar, who is now training to be an officer, says Daniel's spirit still accompanies him: "There is a sense of a great missed opportunity; there is no one more suitable who could be here with me."