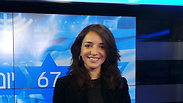 Lucy Aharish
Photo: Idan Arbel
When 14 Israelis light torches in recognition of their outstanding contributions to the country at Israel's splashy Independence Day ceremony on Thursday, Arab newscaster Lucy Aharish will stride across the stage in an act of defiance.

The 34-year-old journalist who believes Israel should remain the Jewish state will be challenging some of her Arab compatriots who commemorate Israel's independence day as "the catastrophe," when many Arabs were uprooted from their homes in the 1948 war surrounding Israel's founding. She also will be thumbing her nose at some Jews who believe she doesn't deserve the honor.

But more than anything, when she holds her torch and intones the traditional phrase, "for the glory of the State of Israel," she says she will be sending a symbolic message to the ceremony's most prominent guest: Prime Minister Benjamin Netanyahu.

"I exist. I am going to light a torch. And I am going to be really proud to tell him, that whether you like it or not, I am not going anywhere," said Aharish, sitting in a studio at i24news, an Israeli cable news channel where she anchors an English-language program for international audiences. She also hosts a Hebrew-language talk show on Channel 2, the country's highest-rated TV station.

Netanyahu shocked her and many others when he warned on election day last month that Israel's Arab citizens were heading to the polls "in droves," urging his nationalist supporters to balance them out.

The comment drew an angry and tearful reaction from Aharish in a postelection broadcast that quickly went viral, provoking both sympathy from many Jewish Israelis and eye rolling from some Arabs who said Netanyahu's anti-Arab stance was no shocker.

Israel's Arabs, who make up a fifth of the population of 8 million, often complain of discrimination. Many identify as Palestinians. They are often viewed with suspicion by many Israeli Jews.

Aharish has built her career by standing out from the pack. Raised in the remote southern desert town of Dimona, where her parents and three sisters were the only Muslim Arabs, she speaks unaccented Hebrew and could easily pass as a Jewish Israeli.

In the cable network's makeup room, she gabbed with staff about Passover traditions, wearing Prada sunglasses and shiny silver flats.

A government committee selected her for the Independence Day ceremony for promoting pluralism. But some Jewish Israelis have publicly opposed her selection, and an extremist Jewish group opposed to Arab-Jewish coexistence says it's planning a protest demonstration.

Yaron London, a veteran TV journalist, told the Israeli newspaper Globes her selection is "absurd," saying Aharish is not a "deep social thinker."

"What does she represent exactly? A woman who because of the circumstances of her life doesn't despise Jews but befriends them? She represents mainly herself and her own private biography," London said.

Advocates of the choice, however, see in Aharish a representative of a small subset of Israeli Arabs who blend in perfectly with the dominant culture. While some may decry a betrayal of Arab traditions, others hope the increasingly visible trend might herald some sort of post-conflict future.

Aharish moderates frequently stormy television panels debating current events, and her iconoclastic views run against the grain of traditional Arab attitudes. She says she gained her success by refusing to believe her minority status was a handicap. Her crossover appeal has even translated to the entertainment world, where she has appeared as a sidekick on a comedy program.

"I am not the victim of the Jews or the Arabs, I'm not a victim of the society, and I am not a victim of the government. The minute I will stop seeing myself as a victim, this is the minute that I can ... fly," she said. "This is the minute I can break this glass ceiling that everybody's talking about."

Many Arab Israelis feel alienated by the country, and some have criticized Aharish for taking part in celebrations on what they consider to be a sad day.

"From my point of view it's an embarrassment," said Khalil Gharra, 23, an Arab political activist, and sociology and political science student at Hebrew University in Jerusalem. "We are Arab Palestinians whose identity is Palestinian. And we cannot identify with the symbols of the occupier in any way."

But Aharish says Israel should remain a Jewish state in light of the suffering Jews experienced in the Holocaust, arguing that this historical legacy is what should strengthen Israel's democratic character.

"I cannot continue crying about the past," she said. "I cannot continue crying about the land that was taken by the Jews who came here."

Despite her pride for Israel, the torch-lighting honor comes at a moment when Aharish's confidence in Arabs' place in society has been shaken.

Netanyahu issued his videotaped warning about Arab voters a few hours before Aharish anchored i24 News' evening election coverage.

"I said, 'Oh my God. I am broadcasting right now from an Israeli international channel to the rest of the world, the Israeli elections. And my prime minister...is basically saying that I'm the enemy,'" Aharish said.

Arab-Israeli identity politics even interfere with her love life. She says her relationships with Jewish men have fizzled because the men struggled to overcome the Arab factor.

She says she wants to leave Israel, at least for a while. In five years, she'd like to be broadcasting for an international cable company, she said, and in a decade, she wants to buy a home and open a cafe in Tuscany.

"I want to wake up once in the morning and say, 'I want to go to work,' and that's it. With no burden, with no heavy problems - minority, lack of equality, racism, lack of tolerance, patronizing," Aharish said. "I don't want to deal with these things for a short while."