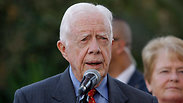 Former US President Jimmy Carter
Photo: AP
President Reuven Rivlin heeded the Foreign Ministry's advice and decided not to meet former US President Jimmy Carter and former Norwegian Prime Minister Gro Brundtland when they visit the region.
Carter and Brundtlend will arrive on April 30 for a 3-day trip to Israel, the Palestinian Authority territories, and the Gaza Strip, where they are expected to meet Hamas leader Ismail Haniyeh. Israel officially decided to boycott Carter's visit, although it will not prevent him from entering Israel or entering the Gaza Strip through the Erez crossing.
Sources in the Foreign Ministry said the reason they were boycotting Carter's visit was because he consistently helps delegitimize Israel and that any meeting with an Israeli official would only contribute to this process.
Carter will arrive in the region on an emergency mission, mainly intended to mediate between the Palestinian Authority and Hamas in Gaza, which he believes is nearing a breaking point.
Carter has been vocally critical of Israel in recent years. He has referred to Israeli "apartheid" numerous times. Last year Carter wrote that "Hamas cannot be wished away, nor will it cooperate in its own demise.
"Only by recognizing its legitimacy as a political actor - one that represents a substantial portion of the Palestinian people - can the West begin to provide the right incentives for Hamas to lay down its weapons."
Carter has visited Israel in the last few years, but former President Shimon Peres would generally meet him – even he spent the meetings criticizing the former president's views.