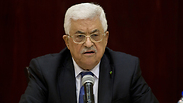 Palestinian President Abbas
Photo: Associated Press
Israel on Monday unblocked close to half a billion dollars it confiscated from Palestinian tax revenues since the beginning of the year, the Palestinian Authority said.

The Palestinian finance ministry said it received NIS 1.8 billion (about $450 million) and would from Wednesday pay December and January salaries to 180,000 civil servants, who have been on 60 per cent pay.

Israel decided to unfreeze the Palestinian tax funds to "maintain regional stability" and because of "humanitarian reasons," an Israeli official said Saturday after the deal to see the funds transfered was reached. In the past, Ynet has reported that top IDF officials feared the ramifications of a cash-strapped PA, which they said could fuel terror.

The Palestinians had threatened to turn to the International Criminal Court over Israel's decision in early January to retain the taxes in retaliation for the Palestinians joining the International Criminal Court.

Related stories:

Under an economic agreement signed in 1994, Israel transfers to the PA tens of millions of dollars each month in customs duties levied on goods destined for Palestinian markets that transit through Israeli ports. The monthly funds account for two-thirds of the Palestinians' annual budget, excluding foreign aid.

Israel agreed at the start of April to release the funds after deducting debts due for electricity, water and medical services, a proposal rejected by the Palestinians who insisted on full payment. Israel has not said whether it would now resume normal monthly payments.

Israel's state-run Electric Corporation on Monday withdrew a court suit to have its outstanding bills paid directly from the confiscated money, after the High Court of Justice ruled it had no legal right to do so.

Israeli officials say that the Palestinian Authority owes the Jewish state more than $500 million for electricity, water and medical treatment received by Palestinians in Israeli hospitals.