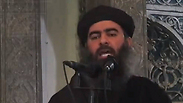 Abu Bakr al-Baghdadi
Photo: MCT
Abu Bakr al-Baghdadi, the leader of the Islamic State group, was seriously wounded in airstrikes by the US-led coalition in western Iraq, the Guardian reported on Monday, citing sources.
An Iraqi source with connections to the Sunni terror group said that Baghdadi sustained the injuries in an attack by the coalition forces in March. The source said that Baghdadi's wounds were life threatening at first, but that he has since then made a slow recovery. However, the paper reported, his condition has not allowed him to resume the leadership of the terror group.
The paper cited two sources – a western diplomat and an Iraqi advisor – as saying that Baghdadi sustained the injuries on March 18 in the al-Baaj a district of Nineveh, close to the Syrian border. During the months of November and December, unconfirmed reports emerged that the Islamic State leader had been injured.
Baghdadi, the enigmatic self-proclaimed "caliph" of a state straddling Iraq and Syria, is increasingly seen as more powerful than al-Qaeda's chief.
The leader of the powerful militant group was on June 29 declared "caliph" in an attempt to revive a system of rule that ended nearly 100 years ago with the fall of the Ottoman Empire.
Baghdadi, born in Samarra in 1971 according to Washington, apparently joined the insurgency that erupted shortly after the 2003 US-led invasion of Iraq, at one point spending time in an American military prison in the country.
In October 2005, American forces said they believed they had killed "Abu Dua", one of Baghdadi's known aliases, in a strike on the Iraq-Syria border.
But that appears to have been incorrect, as he took the reins of what was then known as the Islamic State of Iraq (ISI) in May 2010 after two of its chiefs were killed in a US-Iraqi raid.
In October 2011, the US Treasury designated him as a "terrorist", and there is now a $10-million (7.3-million-euro) bounty for his capture.
He is touted within IS as a battlefield commander and tactician, a crucial distinction compared with Al-Qaeda chief Ayman al-Zawahiri, and has attracted legions of foreign fighters, with estimates in the thousands.
At the time Baghdadi took over the group in April 2010, when it was ISI and tied to Al-Qaeda, it appeared to be on the ropes after the "surge" of US forces combined with the shifting allegiances of Sunni tribesmen to deal him a blow.
But the group bounced back, expanding into Syria in 2013.
Baghdadi sought to merge with Al-Qaeda's Syrian franchise, Al-Nusra Front, which rejected the deal, and the two groups have mostly operated separately since.
AFP contribtued to this report.