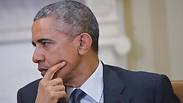 President Obama.
Photo: AFP
President Barack Obama said on Tuesday the United States government has warned Iran against delivering weapons to Yemen that could be used to threaten shipping traffic in the region.

"We've been actually very straightforward to them," Obama said in a televised interview on MSNBC's "Hardball."

"What we've said to them is that 'if there are weapons delivered to factions within Yemen that could threaten navigation, that's a problem.' And we're not sending them obscure messages - we send them very direct messages about it," Obama said.

The warning came amid reports that Iranian ships may be on their way to provide arms to Shiite rebels, known as Houthis, who have overtaken parts of Yemen and driven out the country's leadership.

"Right now their ships are in international waters," said Obama during the interview with MSNBC's Chris Matthews on Tuesday. "There's a reason why we keep some of our ships in the Persian Gulf region and that is to make sure we maintain freedom of navigation. And what we've said to them is if there are weapons delivered to factions within Yemen that could threaten navigation, that's a problem."

On Monday, a US aircraft carrier was sent to Yemen's coast to help prevent any shipment of Iranian arms.

Obama has said that Iranian involvement in the Yemen crisis would only complicate efforts to find a solution.

"What we need to do is bring all the parties together and find a political arrangement," Obama said. "It is not solved by having another proxy war in Yemen. We've indicated to the Iranians that they need to be part of the solution, and not part of the problem."

The president also sought to play down concerns over reports that Russia plans to sell Iran a sophisticated missile-defense system—another development that could complicate the nuclear talks.

"This is a sale that's been pending for six years," Obama said. "It's of concern, we object to it, particularly because right now we're still negotiating."

But, Obama said, "we have to keep this in perspective. Our defense budget is somewhere just a little under $600 billion. Theirs is a little over $17 billion. Even if they've got some air defense systems, if we had to, we could penetrate them."

"Ultimately, it's going to be up to the Iranians to make sure that they come to the table prepared to memorialize what has already been agreed to," Obama said.