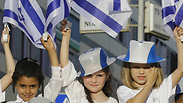 Children celebrating Independence Day
Photo: Gadi Kabalo
Israel made the jarring move from grief to joy on Wednesday evening, welcoming Independence Day with a torch-lighting ceremony at Mt. Herzl in Jerusalem.

The torch-lighting ceremony, which officially marks the beginning of Independence Day celebrations, focused this year on trailblazers - outstanding Israelis who reached unusual and inspiring achievements and have made a significant contribution to Israeli innovation and excellence in different walks of life, including: Science and technology, defense, economics, medicine, agriculture, culture and sports.

But before official Independence Day celebrations could start, Herzl Shaul, the father of Oron Shaul who was killed in battle in Saja'iyya last summer, read out the Yizkor ("remembrance") prayer, in honor of Israel's fallen soldiers and terror victims.

Col. (res.) David Rokani, who commanded the ceremony for the 33rd year in a row, then asked Knesset Speaker Yuli Edelstein permission to start the ceremony.

The Israeli flag was then raised to the top of the flagpole, and the celebration of Israel's 67th Independence Day began.

Unusually, Prime Minister Benjamin Netanyahu's Independence Day greeting this year was pre-taped and aired on screens at Mt. Herzl.

Prime Minister Netanyahu's Independence Day greeting

"At the onset of this Independence Day I want to first and foremost salute you, the soldiers of the IDF, and all of the security forces," Netanyahu said. "Last summer, we saw your fighting spirit, your comradeship and the bravery in your hearts during Operation Protective Edge. You're the first layer of Israel's security and independence. On this Independence Day we look back at Israel's 67 years of existence with great pride. And we look forward with hope and prayer."

Independence Day celebrations (צילום: אחיה ראב"ד, אביהו שפירא, עידו בקר, רועי עידן ואסף מגל)

Knesset Speaker Yuli Edelstein lit the central torch, and received a lot of applause when he said in his speech: "I love this country, but more than that I love this people. The residents of central Israel and those in the periphery; the people of the kibbutzim and moshavim; the settlers in Judea and Samaria, and the minorities; the people of the humanities and literature, academia and art. And yes - also those who kiss the mezuzah and pray at righteous' graves."

Edelstein, who was hinting at controversial comments made by artist Yair Garbuz before the recent elections, went on to say: "We have to rise above our disagreements and our different camps, strengthen what we have in common, condemn extremism, patronizing, racism and violence."

After Edelstein came 14 outstanding Israelis who lit the remaining 12 torches.

Torch-lighting ceremony (Hebrew) (צילום: אלי מנדלבאום)

One of them is Israeli Arab journalist Lucy Aharish, who was teary-eyed and emotional, and even spoke in Arabic.

She lit a torch "in honor of those who are no longer with us and were victims of unjustified hatred from those who forgot we were all born in the image of one God; the Sephardic and Ashkenazi; the religious and secular; Arabs and Jews. For the children of this land who remind us we have no other country, in honor of us, the Israelis, for human beings, and for the glory of the State of Israel."

After the lighting of the 12 torches, and a performance from Oz Zehavi, it was time for the performance of the IDF flag bearers, who formed different images.

Alongside the traditional images of the Star of David, the word "IDF" in Hebrew and the number "67", the flag bearers also created the image of a disk-on-key, the Waze logo, a drone, a Merkava tank and the Iron Dome - all Israeli inventions.

The 120 excelling soldiers, who will be honored at a ceremony at the President's Residence on Thursday, created an image of the Menorah.

At the end of the ceremony, the Jerusalem municipality launched its fireworks display.
The fourteen torch-lighters
Danny Gold: One of the mastermind developers behind the Iron Dome missile defense system, which saved countless lives during Israel's last conflict with Hamas, intercepting over 1000 rockets fired at Israel from Gaza.
Ehud Shabtai: The WAZE developer will light a torch for his role in spearheading the internationally acclaimed application purchased by Google for over $1 billion. He will light his torch together with Or Asulin, a 17-year-old high-school student from Acre, who leads a company geared a developing youth entrepreneurship in high-tech.
Rami Levi: An entrepreneur whose chain of supermarkets is credited with revolutionizing food prices in Israel.
Alice Miller: Israel's first female pilot, will light a torch for taking the IDF to the Supreme Court and clearing the way for female pilots and gender equality in the army.
Lucy Aharish: A Muslim Israeli-Arab journalist, will take to the stage for being an outspoken voice against racism in Israel and a trailblazer for women and Arab journalists in Israel. Aharish hosts a daily news broadcast on i24 News.
Prof. Marta Weinstock-Rosin: The researcher will light a torch for developing a groundbreaking drug Exelon, used to slow Alzheimer and Parkinson's disease. She will light a torch together with Dr. Gabriel Idan, an inventor who developed a miniature camera which patients can ingest as an alternative to invasive procedures.
Rafi Mehudar: An Israeli inventor and entrepreneur, will light a torch for his groundbreaking irrigation inventions. His technologies have helped Israel and developing nations conserve much needed water.
Avihu Medina: A singer and songwriter who thrust Israel's Mediterranean music scene into the limelight will be honored for his contribution to Israeli music.
Sima Shine: Shine holds the highest rank of any women in Israel's intelligence operations, serving as director of the Division of Regional Affairs in the Strategic Affairs Ministry.
Gal Lusky will light a torch for her foundation Israel Flying Aid, which provides humanitarian relief in crisis situations across the world.
Malka Piotrkowsky: Female Rabbi who paved the way for women's study of Torah and the Talmud, will be honored for her work as a teacher and activist for women's rights in the religious community.
The IDF's special needs soldiers will be honored, and they will be represented by Pvt. Dan Korkowsky, who was diagnosed as being on the autism spectrum, from the IDF's Special Intelligence Unit 9900. He will be joined Sgt. Bat Chen Fumorchok, he leads the unit, called "Ro'im Rahok" (Seeing Far).