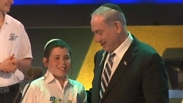 Eyal Yitzhak Matas with Netanyahu at competition
Photo: Eli Mendelbaum
Eyal Yitzhak Matas, a 15-year-old studying at the "Darchei Noam" High School Yeshiva in Petah Tikva, was announced this year's winner of the International Bible Contest held in Jerusalem on Thursday.

In second place was Udi Algrabli (17) from Jerusalem, a student at the "Horev" Yeshiva High School in Jerusalem.

The two made it to the final stage after answering a series of questions posed by Prime Minister Benjamin Netanyahu and a panel of judges.

Speaking at the end of the competition, Netanyahu addressed the contestants from foreign countries, urging them to "make aliyah".

The event, one of Independence Day's major traditions, was held for the 52nd time this year, and its theme was "Kibbutz Galuyot" (ingathering of the Diasporas).

This year's panel of judges included Bat-Galim Shaer, the mother of Gil-Ad - one of the three Israeli teens abducted and killed by Palestinians before the start of Operation Protective Edge.

After announcing the winners, Netanyahu said, "soldiers who swear allegiance to the country receives a Bible book. The Bible is the sources of our strength, I value it as the Makor Mayim Chayyim ("Fountain of Living Waters") and it is important that our youths and children draw from this well."

Commenting on this year's theme of the return of Jews to Israel from all countries around the world, Netanyahu said: "Israel is the only place a Jewish person can walk down the street and say 'I am Jewish'. We are not forgetting about the responsibility other governments have to ensure the safety of the Jewish residents, but we are saying to the Jews of the world: "This is home – this is our home."

Netanyahu urged the contestants to "come back to the land of Israel, make aliyah. We are waiting for you with open arms."

Four Israeli teenagers, as well as three from the US, Canada and Mexico, and other contestants from Panama, Belarus and South Africa competed for the coveted title, showing extraordinary proficiency in the books of the Bible. In third place was Arad Kotzer from Ashdod, and in fourth Ryan Raphael Ripsman from Canada.

Of the 67 contestants in the preliminary contest, only 16 individuals – from 33 different countries – made it to the final round.

The International Bible Contest is organized by the Education Ministry, the IDF Education and Youth Corps, The Chief Military Rabbinate, the Jewish Agency for Israel, the Defense Ministry and Keren Kayemet Le'Israel.