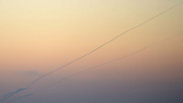 Rocket launch over Ashkelon.
Photo: Avi Rokach
A code red siren was sounded in Sderot and other Gaza border communities in southern Israel on Thursday evening as the country celebrated Israel's 67th Independence Day.

The last time the air raid siren blared in southern communities was at the end of December. The rocket hit an open field in the Sha'ar HaNegev Regional Council, near Sderot. No injuries or damages were reported.

A resident of the regional council said they heard the air raid siren and rushed to their shelters. "We closed the door and there was a strong explosion. It must have been a Qassam, I have no doubt because I recognize the sound."

"It took us by surprise and we only had a few seconds to realize what was happening because we are in a period of calm; we were unprepared. We received no special directives since then," he added.

Alon Shuster, the head of the regional council, told Ynet: "This is an aberration and its consequences are unclear. There is no panic among the residents, even among those who heard the explosion. This is the reality you deal with when you live in a hotspot which is not handled and occasionally explodes."

In recent days Hamas has executed a wave of arrests of Salafists in the Strip, following a series of explosions across Gaza. Hamas' security forces have searched relentlessly for those responsible but the identity of the mastermind behind the attacks remains unclear.

According to Salafi sources, 13 of their members were arrested, and it is possible the rocket fire on Israel tonight was intended to embarrass Hamas over the arrests.

On the night of December 20 Israeli Air Force jets attacked a Hamas training base in the southern Gaza Strip in retaliation of a rocket which fell in the Eshkol Regional Council a day earlier.

It marked the first IDF strike on the Strip since the end of Operation Protective Edge.