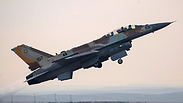 Israeli Air Force jet
Photo: EPA
After four months of quiet, a rocket was fired on Thursday evening from Gaza towards communities in southern Israel. The rocket exploded in an open field in the Sha'ar Ha Negev Regional Council. There were no injuries or damages reported.

Close to midnight on Thursday, the IDF tanks attacked a Hamas position in the northern Gaza Strip in retaliation for the rocket that landed in southern Israel a few hours earlier.

The IDF said in a statement that it "will not condone any effort to harm the security of the people of Israel."

Palestinian sources reported that the artillery shelling hit an open area near Beit Hanoun, the site of the rocket which was launched on Israel.

According to an initial IDF investigation, Hamas was not involved in the rocket fire, which was likely initiated by rebellious elements in the Strip. Due to the rocket fire, Israel will not allow passage for Gazan worshippers to the Temple Mount in Jerusalem.

The IDF sources believed that like in previous incidents since the end of Operation Protective Edge in August, the rocket fire was a one-time incident which does not signal an escalation. Hamas has shown restraint in recent months and actively worked to prevent elements within the Strip from approaching the barrier with Israel.

In recent days Hamas has executed a wave of arrests of Salafists in the Strip, following a series of explosions across Gaza. Hamas' security forces have searched relentlessly for those responsible but the identity of the mastermind behind the attacks remains unclear.

According to Salafi sources, 13 of their members were arrested, and it is possible the rocket fire on Israel tonight was intended to embarrass Hamas over the arrests.

Alon Shuster, the head of the regional council, told Ynet: "This is an aberration and its consequences are unclear. There is no panic among the residents, even among those who heard the explosion. This is the reality you deal with when you live in a hotspot which is not handled and occasionally explodes."

Matan Tzuri and Elior Levy contributed to this report.