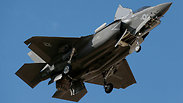 F-35 Joint Strike Fighter
Photo: AP
Vice President Joe Biden on Thursday promised Israel delivery of top-flight fighter jets to help it maintain its military edge in the Middle East and vowed any nuclear deal with Iran would ensure Israel's security.

As the White House sought to ease tensions with Israeli Prime Minister Benjamin Netanyahu, Biden told an Israeli Independence Day celebration that the United States would deliver new F-35 jets to its ally next year.

Vowing the United States would make sure Israel maintained its "qualitative edge," Biden told the audience: "Next year we will deliver to Israel the F-35 Joint Strike Fighter, our finest, making Israel the only country in the Middle East to have this fifth-generation aircraft."

Biden's high-profile appearance at an event hosted by the Israeli Embassy was the latest sign of White House efforts to lower the temperature after a period of acrimony between President Barack Obama and Netanyahu over Iran nuclear talks and Middle East diplomacy.

Ties became badly frayed early last month when Netanyahu accepted a Republican invitation to speak to the US Congress, where he railed against Obama's quest for a nuclear deal with Iran.

Biden sought to reassure the audience at the event of the Obama administration's commitment to reaching a final nuclear agreement with Iran that would maintain Israel's security.

He insisted there would be "no deal" unless Iran agreed to strict international inspections. "If Iran cheats," he said, the United States would maintain every option "on the table."

Speaking of the US-Israeli relationship, Biden acknowledged that "we've had our differences" but added that "we protect each other."

Obama, who has faced complaints from some fellow Democrats that the public feud had gone too far, has recently reached out to US pro-Israel groups and American Jewish leaders seeking to soothe their concerns about his support for Israel.

Biden said that Obama "says he has Israel's back and you can count on it."

Israel bought 19 F-35s in 2010 for $2.75 billion and signed a contract in February to buy an additional 14 of the Lockheed Martin Corp fighter jets for about $3 billion. Israel's first two F-35s will arrive by the end of 2016, with deliveries scheduled to be completed by 2021, the Israeli Defense Ministry said in February.

Earlier this month a simulator for the F-35 arrived at an airbase in the Negev. "The S-300 anti-aircraft system is exactly the type of threat the F-35 was designed to counter," said Steve Over, director for F-35 international business development, during a visit to the Israeli airbase. The American official was commenting on the stealth fighter's capabilities after reports surfaced that Iran would receive the advanced Russian system.

Yoav Zitun contributed to this report.