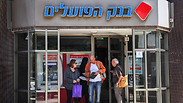 Bank Hapoalim
Photo: Avishag Shaar-Yashuv
Former president Shimon Peres has decided to cancel his contract to act as an advocate abroad for Bank Hapoalim, well as his planned trip to the United States this week to speak at an event by the bank.
Peres spoke with Bank Hapoalim CEO Zion Kenan to explain his decision to end the contract.
The former president convened his aides on Memorial Day, telling them to cancel the contract, including the plan to fly to New York on the night of Independence Day, to address a major event to mark the bank's 40 years of operations in the US.
"I am not prepared to have a false spin put on my lectures and meetings in New York. I'm not anyone's lobbyist. I would like to immediately cancel the contract with the bank," Peres told his closest advisers.
According to the contract with Bank Hapoalim, Peres was to receive $30,000 per month for advisement and lectures abroad.
In a recent statement, Peres' office said "not one penny was not intended for Mr. Peres' pocket, but was earmarked as a contribution to social welfare projects. However, out of a desire to be responsive to the public sentiment and because of erroneous interpretations, Mr. Peres has announced the full cancellation of the contract."
In a recent interview with Channel 2 news, Peres said: "I did not do anything wrong. I do not earn a single penny, as I did not take a penny of that money. I'm not a lobbyist at all. I do not have a bank, I have my name, and my good name is the only bank that I have."