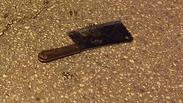 Butcher knife used by Palestinian
Ali Said Abu Ranam, 16 years old from East Jerusalem, was shot dead after he attempted to stab a Border Police Officer with a butcher knife at a checkpoint near Ma'ale Adumim on Friday night.
Magen David Adom paramedics pronounced the Palestinian teen dead at the scene. The officer was not wounded in the incident.
Border Police fighter Corporal L., who helped neutralize the attacker, recounted the incident, "During a routine shift, I suddenly heard gunfire from the nearby checkpoint. We ran towards the place when I suddenly saw the terrorist coming towards us with a knife in his hand. We ordered him to stop and when he kept running, the security guards and me fired at him and neutralized him," he said.
Earlier Friday, a Jewish man was found tied up and stabbed in the trunk of a car belonging to Palestinians from East Jerusalem late Thursday night. He was moderately wounded and police believe the incident is criminal in nature.
Another stabbing incident took place earlier in April, when two Israeli soldiers were stabbed at the Sinjil junction, near the settlement of Shilo in the northern West Bank. One was seriously hurt and the second sustained light wounds. The Palestinian attacker was killed at the scene by the soldier who sustained lightly wounds.
Also in April, an IDF commander of a paratrooper unit was stabbed in his torso after confronting a group of Palestinian illegal aliens trying to cross into Israel, near the Oranit security checkpoint along the Trans-Samaria Highway. The soldier was lightly wounded, but managed to quickly tackle the terrorist and hold him to the ground.