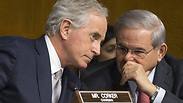 Bill proposers Corker and Menendez
WASHINGTON - An influential pro-Israel lobbying group is pressuring US lawmakers not to support amendments to toughen a bill that lets Congress review a nuclear agreement with Iran, hoping to avoid a partisan battle that could doom the legislation.

The American Israel Public Affairs Committee (AIPAC) has been urging Republicans not to back amendments that might turn many Senate Democrats against the "Iran Nuclear Review Act," or prompt Democratic President Barack Obama to renew his threat to veto the legislation.

"Our priority is to make sure the bill gets passed with the strongest possible bipartisan majority so that Congress is guaranteed the opportunity to pass judgment on the final agreement," an AIPAC source said.

"To achieve that goal we are supporting the leadership of Senator (Bob) Corker and Senator (Ben) Cardin on the bill."

AIPAC is considered one of the most powerful lobbying groups in Washington, and its support makes it less likely an amendment seen as a "poison pill" that would kill the bill would attract the 60 votes needed to pass the Senate.

Related stories:

Corker, the Republican chairman of the Senate Foreign Relations Committee, and Cardin, the panel's top Democrat, introduced the bill in the full Senate on Thursday. They urged lawmakers to support the legislation with the largest bipartisan majority possible.

Republicans and Democrats on the committee agreed last week to soften the bill by removing provisions that prompted Obama to threaten a veto, such as a requirement that he certify Iran does not support terrorism anywhere in the world.

Senators have been filing amendments seeking to change the legislation before it comes up for a vote in the full chamber.

Some are seen as "poison pills" that would alienate too many Democrats to pass or prompt a veto if they did somehow get through the Senate and House of Representatives.

For example, Republican Senator Ron Johnson offered an amendment that would require any Iran nuclear deal to be considered a treaty, which would require the approval of two-thirds of the 100-member Senate to go into effect.