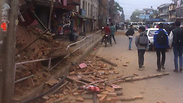 More than 1,300 were killed in an earthquake measuring 7.9 magnitude which struck east of Pokhara in Nepal on Saturday. The earhquake caused buildings and centuries-old temples in the capital Kathmandu to collapse and cut open roads in the worst tremor in the Himalayan nation in 81 years.
The death toll in Nepal from a severe earthquake on Saturday has risen to 1,341, a police spokesman said. Of the total, more than 630 were reported dead in the Kathmandu Valley and at least 300 more in the capital. In India, at least 34 were confirmed killed and dozens injured; two Chinese citizens were killed on the China-Nepal border; two killed and some 100 injured in Bangladesh; six killed in Tibet.
Given the scale of the destruction, the death toll is almost certain to rise, said Home Ministry official Laxmi Dhakal.
An avalanche swept over the face of Mt. Everest in the wake of the earthquake, burying the Nepal base camp and killing at least 8 people. Some 30 were reported hurt in the avalanche.
Earthquake hits Nepal capital (צילום: רויטרס)
"Hundreds of people are feared dead and there are reports of widespread damage to property. The devastation is not confined to some areas of Nepal. Almost the entire country has been hit," said Krishna Prasad Dhakal, deputy chief of mission at Nepal's Embassy in New Delhi.
In Kathmandu, dozens of people were gathered in the parking lot of Norvic International Hospital, where thin mattresses were spread on the ground for patients rushed outside, some wearing hospital pajamas. A woman with a bandage on her head sat in a set of chairs pulled from the hospital waiting room.
Doctors and nurses hooked up some patients to IV drops in the parking lot, or were giving people oxygen.
Television news footage showed people being treated on the streets outside hospitals and several bodies lying in rows, covered in blankets.
"We are totally cut off from most parts of our country," said Ram Narayan Pandey of the Nepal Disaster Management Authority, who was coordinating relief efforts from Kathmandu.
Kathmandu is home to ancient, wooden Hindu temples. As the ground began to shake, several buildings collapsed in the center of the capital, the ancient Old Kathmandu, including centuries-old temples and towers.
Among them was the Dharahara Tower, one of Kathmandu's landmarks built by Nepal's royal rulers in the in 1832 and a UNESCO-recognized historical monument. It was reduced to rubble and there were local media reporting that at least 50 people had been trapped there.
A stump just 10 metres (33 feet) high was all that was left of the 14-storey structure. Several bodies were brought away from the ruins.
"I can see three bodies of monks trapped in a debris of a collapsed building near a monastery," said Pant, the Indian tourist. "We are trying to pull the bodies out and look for anyone who is trapped."
Photographs posted online showed buildings reduced to rubble, with large cracks along roads and residents sitting in the street holding babies.
But scattered reports also indicated that most buildings in the capital did not collapse.
"It's too early to make any assessment but the damage isn't as bad as it could have been," said Liz Satow, the Nepal director for the aid group World Vision. She said she drove from Kathmandu to the nearby town of Lalitpur and said that while there was considerable damage, most buildings were still intact.
The Kathmandu Valley is densely populated with nearly 2.5 million people, and the quality of buildings is often poor.
Nepal's lack of disaster preparedness, the decrepit buildings packed cheek by jowl along the tiny lanes and the large families who live in these homes make the prospect of a major earthquake a serious concern.
While the extent of the damage and the scale of the disaster are yet to be ascertained, the quake will likely put a huge strain on the resources of this poor country best known for Everest, the highest mountain in the world. The economy of Nepal, a nation of 27.8 million people, is heavily dependent on tourism, principally trekking and Himalayan mountain climbing.
צילום: רויטרס
Deadly avalanche
A senior mountaineering guide, Ang Tshering, said an avalanche swept the face of Mt. Everest after the earthquake, and government officials said at least eight people died and 30 were injured.
"The toll could go up, it may include foreigners as well as sherpas," said tourism official Gyanendra Shrestha.
Tshering of the Nepal Mountaineering Association said the avalanche apparently occurred between the Khumbu Icefall, a rugged area of collapsed ice and snow, and the base camp where most climbing expeditions have their main camps.
Romanian climber Alex Gavan said on Twitter that there had been a "huge avalanche" and "many, many" people were up on the mountain. "Running for life from my tent," Gavan said. "Everest base camp huge earthquake then huge avalanche."
Another climber, Daniel Mazur, said Everest base camp had been "severely damaged" and his team was trapped.
Danish climber Carsten Lillelund Pedersen said on his Facebook page that he was at Khumbu Icefall, a rugged area of collapsed ice and snow close to base camp at altitude 5,000 meters (16,500 feet) when the earthquake hit.
He wrote on his Facebook that they have started to receive the injured, including one person with the most severe injuries who sustained many fractures.
"He was blown away by the avalanche and broke both legs. For the camps closer to where the avalanche hit, our Sherpas believe that a lot of people may have been buried in their tents," he wrote in English.
"There is now a steady flow of people fleeing basecamp in hope of more security further down the mountain."
Around 300,000 foreign tourists were estimated to be in Nepal for the spring trekking and climbing season, and officials were overwhelmed by calls from concerned friends and relatives.
"We are facing a tremendous crisis here and it is hard to even assess what the death toll and the extent of damage could be," said Mohan Krishna Sapkota, a second tourism official.
"The trekkers are scattered all around the base camp and some had even trekked further up. It is almost impossible to get in touch with anyone."
Tremors felt in neighboring countries
Tremors were felt as far away as New Delhi and other northern cities in India, with reports of tremors lasting almost one minute. AP reporters in Indian cities of Lucknow in the north and Patna in the east also reported strong tremors.

"Massive tremors have been felt here in Delhi and several other parts of India," said a newsreader on NDTV in Delhi.

"You can see pictures of our Delhi studios, where the windows rattled and everything shook for a very long time, for a minute perhaps or longer," she said as footage showed studio ceiling camera lights shaking.

A police officer in the control room of neighboring Indian state of Bihar said the phone lines were jammed with callers from across the heavily populated state. "We don't know about the casualties, we are flooded with calls."

Indian government officials reported 14 dead and at least 35 injured in seven districts of the eastern state of Bihar, which shares a border with Nepal, and at least six dead in Uttar Pradesh state from house collapses triggered by the quake. Thirty other people were injured in the state.

The earthquake was also felt in Lahore, Pakistan, Lhasa in Tibet, and in Dhaka, Bangladesh.

The US Geological Survey said the quake, initially measured at 7.7 but upgraded to 7.9 magnitude, struck 80 km (50 miles) east of Pokhara. The quake, which hit at 11:56 am local time (6:11 am GMT) at Lamjung, had a depth of only 11 kilometers (7 miles), which is considered shallow in geological terms. The shallower the quake the more destructive power it carries. It was the largest shallow quake since the 8.2 temblor off the coast of Chile on April 1, 2014.

A magnitude-6.6 aftershock hit about an hour later, and smaller aftershocks continued to ripple through the region for hours.

Nepal suffered its worst recorded earthquake in 1934, which measured 8.0 and all but destroyed the cities of Kathmandu, Bhaktapur and Patan.

Reuters and the Associated Press contributed to this report.