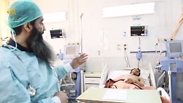 Islamic State group's healthcare services.
The Islamic State militant group stepped up their propaganda efforts on Saturday and promoted a video in which it boasted the health services it provides to its population of conquered citizens.

The video, which was posted on social networks, shows a health system which includes hospitals, advanced systems and certified doctors, including local and foreign physicians.

In the beginning of the video, one of the doctors explains how the group established its medical system, which includes the establishment of medical institutions in territories conquered by the Islamic State group. This includes a hospital in Rakka which the group claims to have renovated.

Another doctor presented an intensive care unit, which is mainly used for the victims of clashes between the Islamic State group and Assad's army or aerial strikes. The third spokesman in the video shows a fully equipped x-ray division that has its own section for women.

An Australian doctor, who presents himself as Abu Yusuf, tells viewers how he left his home in order to contribute to the Islamic State group and contribute his medical skills to the "Jihad."

The Australian doctor is seen in the video holding a baby who was just born in the children's department in an Islamic State run hospital.

During the video, Abu Yusuf says he regrets not joining the Islamic State group earlier in life and calls out to other physicians still living in the West: "It's disappointing to think how many of my Muslim brothers who work in medicine still live in their countries while Muslims here suffer from a severe shortage of doctors.