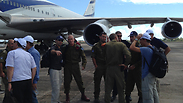 Archive photo
Photo: Foreign Ministry
According to initial estimates by the Home Front Command following the devastating earthquake in Nepal, some 240 soldiers and officers will take part in the search and rescue team that will take off from Israel to Kathmandu on Sunday.

The delegation will include medical experts and aid workers and will set up a field hospital in the ravaged capital. The primary focus of the team will be to locate and assist the many Israelis stranded by the quake who have yet to make contact with their families.

The Israelis will depart in two planes and stay in Nepal for at least two weeks. The site where the delegation will deploy has yet to be announced and will be decided on Sunday after consultation with an IDF team which took off to Katmandu from Nevatim Airbase on Saturday at midnight.

The first-responder crew includes seven medical, logistics, and rescue officers from Home Front Command and will join up with the local authorities when it lands in Nepal to determine what priorities the Israeli delegation should set in their aid efforts.

Due to the failure of local infrastructure in Nepal, the IDF delegation will include advanced communication equipment which relies on satellites instead of local phone lines.

The delegation to Nepal is expected to be the largest to be deployed in recent years, with a more comprehensive staff than those sent to the Philippines and Japan.

President Reuven Rivlin said on Saturday night, "Our hearts and thoughts are with the nation of Nepal who are dealing with a terrible disaster, and with our loved ones who are in danger and distress."

Rivlin added that "Israel will extend its hand with a will to aid in search and rescue of the many injured."

More than 1,300 were killed in an earthquake measuring 7.9 magnitude which struck east of Pokhara in Nepal on Saturday. The earhquake caused buildings and centuries-old temples in the capital Kathmandu to collapse and cut open roads in the worst tremor in the Himalayan nation in 81 years.

Several Israelis were lightly injured in the deadly earthquake in Nepal according to the Foreign Ministry. The number of Israelis designated 'out of reach' was raised to 250.