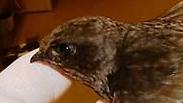 Before surgery. The injured bird
Photo: Shmulik Landau, the Wildlife Hospital
A bird with two damaged wings has been given a new lease of life thanks to a joint rescue effort by Israeli and German vets.
The common swift, one of the world's fastest birds and a species that migrates from Africa to Israel in the spring, arrived in Tel Aviv several weeks ago with injuries that vets said meant there was slim chance of the bird ever returning to the wild.
But cooperation between between the wildlife hospital at Ramat Gan Safari and a swift clinic in Germany saw an expert in swifts arrive in Tel Aviv with feathers from a bird that had died in Germany.
Tina Steigerwald had previously volunteered at the animal hospital in Tel Aviv, and her mission of mercy meant the bird received a feather transplant and returned to its natural habitat after a short period of rehabilitation.