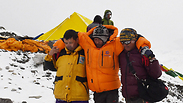 A dozen Israeli teams make their way to Nepal
Photo: AFP
KATHMANDU - At least 150 Israelis are still out of contact in Nepal, down from over 200, where an aftershock added to devastation Sunday a day after a massive Himalayan earthquake killed more than 2,500 people, Israeli and foreign authorities said Sunday afternoon.

Some 68 Israelis trekkers were said stranded in the Langtang Valley, Israel's Foreign Ministry said, adding Israel is working with the Nepalese to send rescue forces to evacuate them. No injuries have been reported among the Israelis. Initially about 600 Israelis were estimated to be in Nepal, some 450 have been contacted, most of them sheltering at the embassy in Kathmandu. These include 25 couples in Nepal to bring home babies born to surrogate mothers.

Saturday's magnitude 7.8 earthquake spread horror from Kathmandu to small villages and to the slopes of Mount Everest, triggering an avalanche that buried part of the base camp packed with foreign climbers preparing to make their summit attempts. At least 17 people died there and 61 were injured.

Israelis in Nepal

Dozens of Israeli couples waiting for surrogate mothers to give birth in Nepal seeking to fly them out to Israel, but Justice Ministry says it fears legal repercussions.

The earthquake centered outside Kathmandu, the capital, was the worst to hit the South Asian nation in over 80 years. It destroyed swaths of the oldest neighborhoods of Kathmandu, and was strong enough to be felt all across parts of India, Bangladesh, China's region of Tibet and Pakistan.

By Sunday afternoon, authorities said at least 2,500 people had died in Nepal alone, with 61 more deaths in India and a few in other neighboring countries. At least 721 of them died in Kathmandu alone, and the number of injured nationwide was upward of 5,000. With search and rescue efforts far from over, it was unclear how much the death toll would rise.

Noga Lustig from Kibbutz Geva was in Nepal when the earthquake struck and told Ynet reporter Itay Blumenthal that she and her partner rescued a Nepali from the rubble. "We were just on our way back from a trek in Langtang and we started to feel shaking," she said.

"Ahead of us we saw a motorcyclist who was just swerving all over the road. After we helped a woman stuck under rubble, on the way to the hospital, we saw the whole town in ruins. People wept, screamed for help, there was hysteria. We returned to Kathmandu after three hours, where we found destroyed hotels and downed electric poles." Noga and her partner have been staying at the Israeli embassy, where a small tent city of sorts has been erected.
Israeli help
On Sunday, over a dozen Israeli teams left for the area to assist in efforts, among them a team from the IDF and Israel's Magen David Adom paramedics.

The MDA delegation left Israel for Nepal on Sunday morning to help Israelis caught in the earthquake and assist locals after a powerful earthquake struck the region Saturday. Also on Sunday, some 240 soldiers and officers took off from Israel to Kathmandu to assist search and rescue efforts.

The director of the IDF's rescue unit in Kathmandu said teams were focusing on attempts to rescue Israelis from around the frozen lakes in Langtang and from Mount Everest, where major avalanches occurred. He said the military had commandeered all available helicopters, making them difficult to obrtain for these purposes. "We know that in the Lang Tang area there are about 40 Israelis," he said.

"The Nepalese army rescued some of them. We believe there are about ten on Mount Everest… The military is sending helicopters but mostly evacuates locals and not as many tourists."

The IDF delegation will include medical experts and aid workers and will set up a field hospital in the ravaged capital. The primary focus of the team will be to locate and assist the many Israelis stranded by the quake who have yet to make contact with their families.




The Israelis will depart in two planes and stay in Nepal for at least two weeks. The site where the delegation will deploy has yet to be announced and will be decided on Sunday after consultation with an IDF team which took off to Katmandu from Nevatim Airbase on Saturday at midnight.

The first-responder crew includes seven medical, logistics, and rescue officers from Home Front Command and will join up with the local authorities when it lands in Nepal to determine what priorities the Israeli delegation should set in their aid efforts.



The Israeli Foreign Ministry opened a situation room to aid Israelis in Kathmandu. Several Israelis were lightly injured in the deadly earthquake in Nepal according to the Foreign Ministry. Hundreds of Israelis arrived at the Chabad House in Kathmandu, where some of them received medical treatment from backpackers who served as medics in the IDF and from local volunteers. They were later moved to the Israeli Embassy.

In addition to the Israeli backpackers, there are dozens of Israeli families currently in Nepal with 24 newborns babies, some premature, born to surrogate mothers, who are desperate to get their children out of the country.

A premature baby born from a surrogate Nepali mother to Israeli parents was in serious condition due to the lack of oxygen after the hospital she was hospitalized in suffered damage from the earthquake, but has since received oxygen and evacuated to the Israeli Embassy in stable condition.

Tens of thousands of Nepalese who spent the night under a chilly sky were jolted awake by strong aftershocks Sunday, while rescuers aided by international teams cleared rubble in search of survivors.

Itay Blumenthal is in Nepal covering events for Ynet

Roi Yanovski, Itamar Eichner and the Associated Press contributed to this report