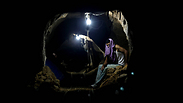 Hamas fighter in terror tunnel (Archive)
Archive photo: AP
Three Golani soldiers have been accused on Sunday of stealing NIS 2,420 (roughly $605) from a home they took over in Gaza City's Saja'iyya neighborhood during Operation Protective Edge last summer.

The military said it tried to find the owner of the building and that the alleged looting took place in an area that saw some of the heaviest fighting in the 50-day Operation Protective Edge.

Two of three, who were removed from their combat positions after the theft was discovered during the operation, have also been indicted by the Military Prosecutor for obstruction of justice.

The indictment was filed at the Haifa Military Court last week. During the investigation, the Military Prosecutor's Office tried unsuccessfully to recruit one of the accused as a state witness, a move that later turned out to be unnecessary.

The soldiers' commanders learned of the theft shortly after it occurred, and the battalion commander was quick to report the crime to military police. The stolen money was returned.
Black Friday
The Military Prosecutor's Office is still examining cases in which innocent civilian Palestinians were killed from IDF fire during the operation, and Chief Military Advocate General Danny Efroni is expected to decide whether to open criminal investigations into the incidents.

The most controversial case on Efroni's desk is the fighting on "Rafah's Black Friday" on August 1, 2014, when the IDF bombarded Rafah after a Hamas cell violated a humanitarian ceasefire, killing three soldiers and seizing the body of one of them - Hadar Goldin.

The Palestinians first claimed 150 people were killed in IDF bombardments that day and later amended the number to some 70. An IDF investigation found only about 40, roughly half of them armed terrorists.

Army officials said it is unlikely a criminal investigation will be launched against Givati commanders leading the fighting in Rafah, noting the firepower used was proportional and appropriate to the severity of the incident.

Meanwhile, investigations have also been opened in additional cases of criminal misconduct which resulted in the death of innocent Palestinians, the most prominent one case in which an IDF shelling of a UNRWA school which killed some 20 Palestinians.

Another case in which a bound Palestinian was beaten, and another in which soldiers fired on a Palestinian ambulance, are also being investigated.

Operation Protective Edge was the third and bloodiest round of fighting since late 2008 between Israel and the Islamic terror group Hamas that rules Gaza. Some 2,200 people were killed on the Palestinian side and 72 on the Israeli side.

The lawyer for one of the three charged with looting said in response that the evidence does not unequivocally support the indictment: "This is a good soldier with no past disciplinary record who was sent to defend his country and risked his life. The decision to charge him is bizarre in light of the fact that he was unaware he was committing an offense at the time."