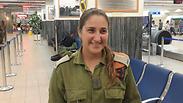 Second lieutenant Ayelet Tzion at the airport
Photo: Roi Yanovsky
An IDF rescue mission set out for Nepal on Monday morning, as the true scale of devastation in the earthquake-stricken country began to emerge. Some 3,800 people have been killed in the tremblor, while fears grow that the death toll will rise to as high as 10,000.

The IDF flight had been delayed for hours due to damaged landing strips in Kathmandu caused by aftershocks following the calamitous earthquake that hit a day earlier. The team will assist in search and rescue missions and plans to set up a situation room and a field hospital.

Images have begun to appear on social media, showing entire villages laid waste by the earthquake. Search and rescue teams are making their way on foot through mountains and streams to locations that are unreachable by road. According to reports, hundreds of communities across Nepal have been cut off with no water or electricity and face recovery efforts alone due their inaccessibility.

"The rescue personnel are also in bad shape. We are all close to collapse," said Lakshmi Prasad Dhakal of Nepal's Home Affairs Ministry.


According to the head of the IDF delegation, Col. Yoram Laredo, the rescuers could be in the field for two weeks. MDA paramedics arrived in Nepal earlier Sunday to treat premature infants who were brought to the Israeli embassy to prepare them for evacuation.

The IDF said it was sending the 260-member mission to provide immediate search and rescue assistance and medical aid.

"An advanced multi-department medical facility, equipped with approximately 95 tons of humanitarian and medical supplies from Israel and a medical staff of 122 doctors, nurses and paramedics, will be rapidly established in the city of Kathmandu to provide medical care for disaster casualties," the military said.

Massive aftershocks continued in Nepal throughout Saturday night and Sunday, causing terrified survivors to run into the streets. At least 150 Israelis were still out of contact in Nepal on Monday, out of 600 believed to be in the country.

These aftershocks have led to further damage that has complicated search and rescue efforts. Among the areas damaged was the ancient city of Patan, in the Kathmandu Valley, where numerous temples collapsed. Patan Durbar Square, a UNESCO World Heritage Site, was said to be completely flattened. Reports said scores had been killed inside the square itself.

An MDA delegation arrived on Sunday to assist in their rescue.

"Our mission consists of three parts: first of all, reach the Israelis that are there and see with our own eyes that there aren't any wounded, give first aid if necessary, and see that all is well," said Dr. Rafi Strugo, Director of the MDA Medical Division..

"Our second mission is to establish a first aid station where the team will provide treatment for the first 48 hours, and provide pain killers, antibiotics, bandages, as well as classify the more severely wounded and see how we can evacuate them to the hospital."

"The third task is to map out the additional needs in terms of medical assistance for what is known as the second wave – the larger delegations that usually arrive after three or four days and open a field hospital."

After the strong quake hit the area, Magen David Adom decided to send a delegation of doctors and paramedics, in coordination with the International Committee of the Red Cross. The team set out in a special plane equipped with medicine, medical supplies and baby food. They intend to stop at the Chabad House in Kathmandu, where many Israelis –both adults and infants – took refuge. Another group was expected to arrive at the Israeli embassy, where 28 infants were located, who will be examined by an MDA team that will assess which of them must be flown back to Israel on Sunday night for medical treatment.

Rain and shortages of food and power have made rescue attempts difficult, and they were further hampered when the military commandeered all helicopters.

In addition to the IDF delegation, the Israelife Foundation has been coordinating a Joint Disaster Response Team comprising of emergency medical personnel from United Hatzalah, SAR specialists from F.I.R.S.T. and recovery teams from ZAKA.

The joint team, which left Israel on Sunday, included a wide range of experts in their field with disaster response experience in Japan, Haiti and the Philippines. The multi-disciplinary teams will work together in squads with each member carrying out the tasks that they are uniquely qualified to perform and supporting the efforts of other team members as operational conditions require. A primary focus will be setting up local aid stations in outlying regions as well as extricating and evacuating victims to the stations.

Eli Pollack, Chairman of the Israelife Foundation stated that "Israelife functions as a umbrella organization for all voluntary emergency response entities in Israel. It is our duty and privilege to harness the combined skills of F.I.R.S.T., ZAKA and United Hatzalah for the benefit of Israelis in Nepal and for the people of Nepal during their time of need."

Itay Blumenthal in Kathmandu, Yoav Zitun, and Roi Yanovsky contributed to this report.