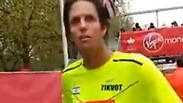 Israeli single-leg amputee Eitan Hermon, who was wounded in the 2006 Second Lebanon War, was crowned International Paralympic Committee world champion in the T44 category following his performance in Sunday's London Marathon.
Some 120 disabled athletes participated in this year's race through the English capital.
Hermon, 41, finished his heat in 34th place, in a time of 3:07.10 hours, which earned him the world championship crown. Hermon, however, was unable to achieve his second goal – to set a new world marathon record for single-leg amputees. The current record stands at 2:54.06 hours.
"The run started really well; I gave my all and that's how things turned out," a clearly excited Hermon said after the event.
"My goal is always to record the best result I possibly can. I hope to earn the chance to participate in the Tokyo Olympics (in 2020), because I'm not going to make it to Rio. I want to thank the Tikvot organization, which helped me get here. My next competition will be in September, the Berlin Marathon."
Hermon was wounded in the Second Lebanon War by a roadside IED and was forced to have his right leg amputated below the knee. He vowed that he would still run a marathon.
Following a long rehabilitation process, he again took up running; and just three years after his injury, he completed his first 10-kilometer run in Tel Aviv with the aid of a special prosthesis.