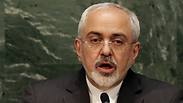 Zarif talking at the NPT conference
Photo: AP
UNITED NATIONS - Iran on Monday demanded that countries possessing nuclear weapons scrap any plans to modernize or extend the life of their atomic arsenals, while branding Israel a threat to the region due to its presumed nuclear stockpile.

Speaking on behalf of the 120-nation Non-Aligned Movement, Iranian Foreign Minister Mohammad Javad Zarif told signatories to the 1970 nuclear Non-Proliferation Treaty (NPT) that there should be no limits on the transfer of nuclear technology and know-how to NPT signatories.

"We call upon the nuclear-weapon states to immediately cease their plans to further invest in modernizing and extending the life span of their nuclear weapons and related facilities," Zarif said at the start of a month-long review conference taking stock of the NPT, the world's benchmark disarmament treaty.

"Reductions in deployments and in operational status cannot substitute for irreversible cuts in, and the total elimination of, nuclear weapons," Zarif said.

He added that Iran and the other 117 non-aligned nations that are parties to the NPT are "deeply concerned by military and security doctrines of the nuclear-weapon states as well as that of the North Atlantic Treaty Organization," which he said permits the use, or threat of use, of atomic weapons.

The five permanent UN Security Council members signed the NPT as nuclear weapon states though the pact calls on them to negotiate on the reduction and eventual elimination of their arms caches. Non-nuclear weapon states complain that there have been too few steps toward nuclear disarmament.

Iran, accused by Western powers of developing a nuclear weapons capability under cover of a civilian program, says its atomic ambitions are entirely peaceful. It is in talks with six world powers to curb sensitive nuclear work in exchange for sanctions relief.

Zarif said NPT signatories should not limit transfers of nuclear technology or know-how to other treaty states as the pact itself does not ban such transfers.

He said non-aligned states viewed Israel's assumed nuclear weapons as "a serious and continuing threat to the security of neighboring and other states, and condemned Israel for continuing to develop and stockpile nuclear arsenals."

Israel neither confirms nor denies the widespread assumption that it controls the Middle East's only nuclear arsenal. Like nuclear powers India and Pakistan, which are members of the non-aligned movement, Israel has not signed the NPT.

Israel is participating as an observer at this month's NPT conference.

North Korea, which signed but later withdrew from the NPT, has tested nuclear devices.