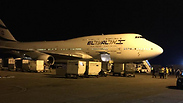 Plane to land in Israel at around noon
Photo: Yossi Filivia
Plane brings back over 200 Israelis from quake-hit Nepal
El Al Boeing 747 carrying Israelis stranded in Nepal takes off for Israel; 'It's exciting to see the soldiers and the Israeli aircraft', backpackers in Kathmandu airport say. Surprised Nepalese citizens: 'This is the only country that treats its citizens like this'.
An El Al plane carrying some 229 Israelis who were stranded in earthquake-hit Nepal took off for Israel on Tuesday morning.

After waiting for more than 10 hours at a crammed airport in Kathmandu, which has became the refuge of hundreds of tourists and locals, the Israelis were excited to see the blue-and-white plane arriving to take them home.

On Monday, a bus arrived at the Israeli embassy in Kathmandu to pick up the Israelis who were waiting in tents set up on the grounds of the building.

The excitement reached its peak when dozens of doctors in the IDF Medical Corps and Home front Command troops exited the plane. Immediately upon landing, they began loading the equipment brought from Israel on Nepalese army trucks.



A Nepal police official says at least 4,352 bodies have so far been recovered after last week's massive earthquake that struck just outside of capital Kathmandu. Nepal's most deadly quake in 81 years also triggered a huge avalanche on Mount Everest that killed at least 17 climbers and guides, including four foreigners, the worst single disaster on the world's highest peak.




Along with the Israelis at the airport were groups of Nepalese and Indian citizens waiting also for planes to take them to another country. One of them was Truban Salama from the city of Pokhara. "My house was not destroyed but many houses in my area were damaged and the situation is pretty terrible," he told Ynet.

He was surprised to see the Israeli plane, and said: "We respect and cherish the Israeli aid efforts. Your rescue efforts show your humanity. When I saw the Israeli plane land I asked 'what happened?' 'Why are you gathering here?' And then I understood that it was part of rescue operations."

Another Nepalese citizen waiting at the airport told Ynet: "The sight of Israeli forces that came to rescue their citizens is unbelievable – this is the only country that treats its citizens in such a manner.

During the wait for the flight back home, Foreign Ministry and El Al representatives handed out sandwiches, snacks and oranges to the Israelis.

"It's exciting and surprising to see Home Front Command troops exit the plane coming to rescue us after only 2 and a half days. I didn't think that I would be returning to Israel so soon," Yudla from Rosh HaAyin, who was travelling in Nepal for three and a half months until the quake cut his trip short, told Ynet.


Recounting the frightening moments when the quake hit, he said: "We were sitting at an Israeli restaurant in Kathmandu on Saturday morning when suddenly everything started moving and at first we didn't understand what was happening. Once we did, we each grabbed our things and ran out. I ran barefoot to the street and stayed there for 12 hours."
'The ground shook'
Osnat Koren from Migdal HaEmek was travelling with her family in Nepal when the quake hit. Her sons and grandchildren returned to Israeli in an early flight but she stayed behind, at the request of several Israeli couples, agreeing to accompany them on their way to Israel with their babies.
Or Asael from the city of Modi'in agreed with him, and told him about conversations he had on the subject with foreign backpackers. "I talked to people from countries like China and France and they said that the embassies were not opened to them, unlike our embassy which also hosted stranded Nepalese citizens."
Rachel Shem-Tov from Petah Tikva who was travelling with her family in Nepal during the past week could hardly contain her excitement upon seeing the Israeli plane. "When the ground shook, were in the dining room and were barely able to go outside due to our anxiety," she said, recounting the terrifying moments they experienced when the quake hit.
"We heard screams and people running in the streets and that's how that nightmare began. Today, it ends."
She added: "My heart was beating when I saw the plane with the Israeli flag land. I was waiting for this moment. I'm going home and not staying here for one more day after what I have been through."
'Chilling to see dozens of babies without a blanket'
The flight back to Israel was also carrying 15 babies, some of which who were born in Nepal through surrogacy arrangements.
The plane came after Attorney General Yehuda Weinstein approved a plan to allow surrogate mothers in Nepal who are in advanced stages of pregnancy to come to Israel. Weinstein said it was essential for the surrogate mothers to willingly agree to leave Nepal for Israel, and that the Israeli consulate or a doctor would have to explain the risks involved.
On Monday, eight families with infants born through surrogacy in Nepal returned to Israel from Kathmandu, after fleeing the scene of the disastrous earthquake in Nepal that claimed thousands of lives. "It felt like we were taken care of," one of the fathers said. "When they came to pick us up, it was like seeing angels."
Another father noted that there were "other two-week old babies who are still there. It's cold and rainy there, bring them back home."
Itay Blumenthal and Yoav Zitun are Ynet's reporters in Nepal.