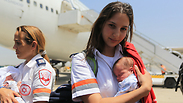 230 Israelis evacuated from Nepal arrived in Israel
Photo: Yaron Brenner
An El Al plane carrying 229 Israelis who were stranded in earthquake-hit Nepal landed at Tel Aviv's Ben Gurion International Airport early Tuesday afternoon. Among the passengers were 15 newborns, including three premature babies.
Hedva Coehn, recalled the event, saying "the quake itself was really hard – it was horrible – the aftershocks were very frightening. It's such a relief to be at home."
Hen, who also landed Tuesday, said "during the earthquake everyone fell over, tables flipped over, and it took some time until we understood what happened." Miki, who was with his baby in Nepal, recalled how he was forced to "hide under a table" to save their lives."
Dror Gurlick, the flight's pilot, told Ynet that "the passengers were really tired, but very happy to see us, they understood it meant that their ordeal was about to end. Almost everyone fell asleep the moment they got on the plane, now everything is different – everyone is smiling."
After waiting for more than 10 hours at a crammed airport in Kathmandu, which has became the refuge of hundreds of tourists and locals, the Israelis were excited to see the blue-and-white plane arriving to take them home.


On Monday, a bus arrived at the Israeli embassy in Kathmandu to pick up the Israelis who were waiting in tents set up on the grounds of the building.
The excitement reached its peak when dozens of doctors in the IDF Medical Corps and Home front Command troops exited the plane. Immediately upon landing, they began loading the equipment brought from Israel on Nepalese army trucks.


During the wait for the flight back home, Foreign Ministry and El Al representatives handed out sandwiches, snacks and oranges to the Israelis.
"It's exciting and surprising to see Home Front Command troops exit the plane coming to rescue us after only 2 and a half days. I didn't think that I would be returning to Israel so soon," Yudla from Rosh HaAyin, who was travelling in Nepal for three and a half months until the quake cut his trip short, told Ynet.
Recounting the frightening moments when the quake hit, he said: "We were sitting at an Israeli restaurant in Kathmandu on Saturday morning when suddenly everything started moving and at first we didn't understand what was happening. Once we did, we each grabbed our things and ran out. I ran barefoot to the street and stayed there for 12 hours."
The flight back to Israel was also carrying 15 babies, some of which who were born in Nepal through surrogacy arrangements.
The plane came after Attorney General Yehuda Weinstein approved a plan to allow surrogate mothers in Nepal who are in advanced stages of pregnancy to come to Israel. Weinstein said it was essential for the surrogate mothers to willingly agree to leave Nepal for Israel, and that the Israeli consulate or a doctor would have to explain the risks involved.
On Monday, eight families with infants born through surrogacy in Nepal returned to Israel from Kathmandu, after fleeing the scene of the disastrous earthquake in Nepal that claimed thousands of lives. "It felt like we were taken care of," one of the fathers said. "When they came to pick us up, it was like seeing angels."
Another father noted that there were "other two-week old babies who are still there. It's cold and rainy there, bring them back home."
Itay Blumenthal and Yoav Zitun are Ynet's reporters in Nepal.