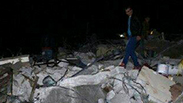 Ruins of Arab home, recently demolished in Kafr Kanna
Photo: Anwar Amara
Israel's Arab minority observed a general strike Tuesday that was to climax with a rally in Tel Aviv to protest against a wave of demolitions of Arab homes.

In Arab towns in the north, schools, colleges, public institutions, banks and most shops remained closed, Arab media outlets reported.

The Higher Arab Monitoring Committee, which represents Arab communities in Israel, said it was a protest against growing racism as well as the acceleration of house demolitions.

"This strike is a response to the increased action by the Israeli authorities against Arab homes and the ongoing harsh policy of incitement to hatred against Arabs which was launched by Prime Minister Benjamin Netanyahu during the elections," it said.

It was referring to an incident on March 17 when Netanyahu played the race card, warning rightwing Jewish voters to turn out because Arab Israelis were going to the polls "in droves."

His remarks drew a rebuke from US President Barack Obama, and were widely criticized in Israel as well as abroad.

The strike and the rally are backed by the Joint List, which groups the main Arab political parties and won third place in last month's general election.

Arab Israelis are those Palestinians who remained on their land when the state of Israel was established in 1948.

Together with their descendants they number around 1.3 million, or a fifth of Israel's population.

There has been a string of demolitions of Arab homes in northern and central Israel, as well as in the southern Negev desert. Campaigners say tens of thousands more have demolition orders against them.

Arab Israelis complain that discrimination by the state makes it impossible for them to obtain planning permission to expand their communities.

The result is that many families resort to building homes without permission, leaving them liable to demolition.

Although Arabs make up 20 percent of the population, only 4.6 percent of new homes are built in Arab areas, figures provided by Arab rights group Adalah show.