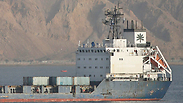 Illustration
Photo: Reuters
Iranian forces boarded a Marshall Islands-flagged cargo ship in the Gulf on Tuesday after patrol boats fired warning shots across its bow and ordered it deeper into Iranian waters as it was traveling through the Strait of Hormuz, the Pentagon said. The ship manager for the container vessel boarded by Iranian forces declined to comment on the status of

The Pentagon on Tuesday said Iran's interception of a Marshall Islands-flagged cargo vessel appeared to be a "provocative" act, but US officials did not have all the facts surrounding the incident.

Colonel Steve Warren, a Pentagon spokesman, said the decision by Iranian naval forces to fire warning shots over the bow of the ship was "inappropriate." He said a US Navy destroyer was headed in that direction to monitor the situation. A US Navy maritime patrol and reconnaissance aircraft was also dispatched. It was not clear what the US defense obligation was to the Pacific island nation.

The ship, the MV Maersk Tigris, initially ignored Iranian patrol boats that ordered it deeper into Iranian territorial waters but complied after the vessels fired several warning shots, US Army Colonel Steve Warren said. The Maersk Tigris is managed by Singapore-based Rickmers Ship Management, which is part of Hamburg-based Rickmers Group. A Rickmers Group spokeswoman declined to comment when contacted by Reuters about the vessel.

US forces in the region responded to distress calls from the Maersk Tigris, sending the destroyer USS Farragut to monitor the situation along with reconnaissance aircraft. No US citizens were aboard the cargo ship, Warren said.

Iran fired at the US vessel from directing the Americans to sail into the nearest Persian port.

A Pentagon spokesman said Iranian forces had boarded a Marshall Island-flagged vessel, the MV Maersk Tigris, in the Gulf. He said the boarding occurred after Iranian patrol boats fired shots across the vessel's bow and ordered it deeper into Iranian waters.

The ship had no US citizens aboard, the spokesman said, contradicting Al-Arabiya's report which said there were 34 US sailors on board. He said it was travelling through the Strait of Hormuz when the incident occurred. There was no immediate word from Iranian officials.

Ship tracking data on Reuters showed the vessel was bound for Jebel Ali in the United Arab Emirates, although it was still close to the Iranian port of Bandar Abbas at 1530 GMT on Tuesday. Its previous port was listed as Jeddah in Saudi Arabia.

The contentious Strait of Hormuz, near the Iranian port city of Bander Abbas, is the only sea crossing from the Persian Gulf – source of a significant portion of the world's oil supply – to open waters.

Iran controls the north section of the strait while the United Arab Emirates and Oman hold the opposing stretch of land.

Reutes contributed to this report.