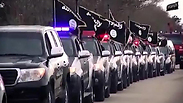 Saudi Arabia said Tuesday it has arrested a total of 93 people with ties to the Islamic State group in recent months, foiling their plans to carry out terrorist attacks, including a strike on the US Embassy in the kingdom's capital.

Interior Ministry spokesman Maj. Gen. Mansour al-Turki said the arrests include a cell of 65 people arrested in March who were involved in a plan that included targeting residential compounds, prisons and security forces.

Authorities also disrupted a plot for a suicide car bomber to attack the US Embassy in Riyadh after receiving information about the plan in mid-March, he said.

A spokesman for the US Embassy in Riyadh had no immediate comment on the disclosure.

The timing of the alleged suicide attack, however, matches with a decision by US officials to halt all consular services starting March 15 at the embassy and diplomatic missions in Jiddah and Dhahran over security fears.

The missions resumed those services a week later, though the embassy urged Americans in the kingdom to take extra precautions when travelling throughout the country.

Saudi Arabia is part of the US-led coalition bombing the Islamic State group in Iraq and Syria. The group has called on its supporters to launch attacks inside Saudi Arabia.

Last year, a Saudi man stabbed a Canadian citizen while he shopped in a mall with his family in the Eastern Province. Also last year, Islamic State supporters shot a Danish citizen in his car in Riyadh as he left work. Both men survived the attacks.

Other arrests involving alleged Islamic State operatives included a cell of 15 Saudis broken up around New Year's that was led by an explosives expert. That group trained in building explosives, setting off two test bombs, and also engaged in firearms training, al-Turki said.

Earlier in the day, al-Turki said police arrested a suspected Islamic State operative wanted for the killing of two police officers in Riyadh earlier this month.

Nawaf al-Enezi, a 29-year-old Saudi citizen, was taken into custody early Tuesday morning after callers had tipped the police off, he said. Al-Enezi was found in a hideout about 100 kilometers east of Riyadh and was wounded by police gunfire during the arrest.

The Interior Ministry last week announced a $267,000 reward for information leading to his arrest.

He is one of two Saudi men police say operated under orders from members of the extremist Islamic State group in Syria in the shooting of the police officers. The other suspect is already under arrest.