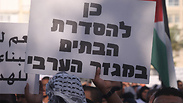 Protest against housing demolitions of Arab villages.
About 2,000 Arab Israelis, including members of the Joint Arab List, gathered for a protest in Tel Aviv on Tuesday evening against the demolition of homes in unrecognized Arab villages.

The protest, held in Tel Aviv's Rabin Square, came after the announcement of a general strike in the Arab sector on Tuesday morning.

The strike took place in Arab towns in the north, schools, colleges, public institutions, and banks, with most shops remaining closed, Arab media outlets reported.

The Higher Arab Monitoring Committee, which represents Arab communities in Israel, said the protest was against growing racism and the acceleration of housing demolitions.

During the protest in Tel Aviv, demonstrators waved Palestinian flags and posters which read: "Stop destroying homes," and "It is our right to built and live like humans."

Some of the protesters called out, "The government is abandoning Arabs," and "Murderous government."

Asraf Abu Eli, a resident of Qalansawe who received a demolition notice for his home, said: "Our situation is very difficult and it is time to fight together. If they destroy my home, we won't have a place to live. I won't leave my home and I will continue to protect it until death."

"If we continue fighting, we will definitely be able to succeed in cancelling the demolition notices," said Abu Eli.

The Chairman of the Regional Council of Unrecognized Villages in the Negev, Atiya al-Atzam, said: "We are worried that if the government will not stop the current trend, if they do not soon offer practical solutions, the Negev will deteriorate into a bitter and ongoing conflict.

"I call on the prime minister to intervene in order to prevent a drift into a crisis before it is too late. The government is stubbornly continuing with its obsession of ruining homes without giving a planned response so people are trapped."

"Young people want to build by the law and are unable to. They refrain from getting married without a home. More and more couples remain trapped in their parents home and are unable to build a home in their village and build a family. They feel like the government is stopping them from living.

"Minister Shamir promised to reconsider part of the demolitions – and disappointed. The destruction is only increasing. He promised economic development processes – but these did not materialize. We expected a change after the elections and we are all full of disappointment," said al-Atzam.