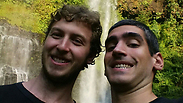 Israelis remaining in Langtang
The operation to rescue Israelis stranded in Nepal after Saturday's devastating earthquake continued unabated on Tuesday.

Insurance company rescue workers who arrived to evacuate a group of Israelis in the Langtang area – who had been out of reach since the natural disaster struck – were surprised when two of the travelers decided to cede their seats on the rescue chopper in order to stay and assist the locals left behind.

The pair, Aviv Rozen and Yonathan Molcho, left to travel in east Asia after completing their military service. When the rescuers arrived at their location, the two informed the Harel Group workers they intended to remain in Langtang while the other Israelis were evacuated.

Rozen's mother, Yaffa from a small town near Ashkelon, had talked to her son, who told her he refused to evacuate. "It isn't easy for me, but I understand that he has principles and that he thinks about others and not only about himself," said Rozen.

She added that she was very proud of her son. "I think that all of Israel should be proud of a person who does not run away but stays to help. He gave up his place on the helicopter and decided to stay and help another group with dozens of members. Because of his love for others, he stayed behind – not to seek any payout."

The Foreign Ministry said on Tuesday that 9 Israelis remained "out of contact" in Nepal following the earthquake. Throughout the day, crews working on behalf of a variety of Israeli insurance firms helped rescue Israelis from various locations in the country.

The Foreign Ministry's spokesperson in Nepal, Alon Lavi, said that the Nepalese military agreed to loan out a large MI-17 helicopter to help rescue stranded Israelis.

The directory-general of the ministry's Asia department and the Israeli ambassador to Nepal met with the Nepalese army's deputy chief of staff and agreed to increase the search and rescue efforts.

The Nepalese military leader ordered the army units under his command to deploy to the area and protect the Israeli tourists, after a few incidents of violence against the Israelis.