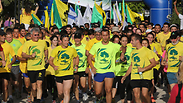 Golani marathon.
Photo: Gil Yohanan
The 28th annual Golani Brigade Marathon reached Jerusalem on Tuesday, two days after it began in the Hermon in northern Israel.

About 5,000 participants took part in the central portion of the race in Israel's capital. The runners started near the East Talpiyot neighborhood and ended near the Jaffa Gate.

The marathon route stretches over 830 kilometers and will end in Eilat on Thursday.

Among the many runners was a group of combat veterans of the Golani Reconnaissance Battalion who ran in memory of Major Tzafrir Bar-Or, killed in a gunfight in Saja'iya during Operation Protective Edge. The veterans wore a shirt that read "running and remembering" during the marathon.

Former Golani commanders were also invited to participate in the Jerusalem portion of the marathon.

Major General Gabi Ofir, who is now the Chairman of "Friends of Golani" organization, said: "It's a wonderful feeling. First, because we get to meet the new generation of the Golani unit. The group looks great and in shape. Beyond that, all of the unit's commanders came here today. As the CEO of the organization, I have not lost contact with the unit.

"We take care of the unit and its prospering, whether its helping with lone soldiers, scholarships or developing the memorial website. We breathe Golani and feel Golani."

Ofir described the emotional moments during the marathon which passed through several Israeli cities. "Yesterday in Herzliya I saw a touching view, Next to about a thousand soldiers running were two people on wheelchairs. That is the spirit. Everyone on his path and everyone with his own story. It is not just the marathon itself. Every morning we perform activities with the community in each city, soldiers alongside youth. We clean heritage sites, shelters, nursing homes and talk about the unit. In the evening we run further."

Next to Ofir ran brigadier general Tzvi Shmuel Zachai, whose son now serves in Unit 51 of the Golani Brigade. "Today, I can really say that Golani is a family - even when you are released from Golani, whether you're released as a sergeant or a brigadier commander, Golani is with you for life."

On Sunday the marathon passed through Haifa and on Monday it passed through Herzliya. The marathon is scheduled to pass through Beer Sheva on Wednesday and on Thursday the run will end in Eilat.

Representatives of Israel's Youth Movement and high school students from 39 different schools across the country are also participating in the marathon.