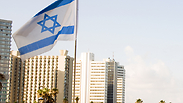 Israelis' hotel stays actually increased by 21% in March
Photo: Shutterstock
The Israel Hotel Association (IHA) published grim figures on the incoming tourism crisis on Tuesday, claiming that the current political situation – without a government and without a budget – was negatively affecting the deepening crisis.

According to the figures, Israel's hotels recorded a 33% drop in the number of foreign tourists' overnight stays in March compared to the same period in 2014.

Deserted Desert

In town closest to UNESCO site, almost one third of hotels were forced to close as local economy pays price for regional turbulence.

"We hope the new tourism minister will boost the marketing issue and implement an emergency program with an increased budget," said IAH President Eli Gonen.

A total of 1.5 million overnight hotel stays were recorded in March by both foreign and domestic tourists, a drop of about 10% from the same period last year. Israelis' hotel stays actually increased by 21%.

Figures compiled by the Central Bureau of Statistics point to a 15% drop in tourist entries to Israel – less than half the drop in foreign tourist stays in Israel's hotels. According to a source in the industry, the gap in the numbers stems from the fact that many tourists arrive for shorter periods of time, stay in hotels which are not members of the IAH, own apartments in Israel or stay with friends and relatives.