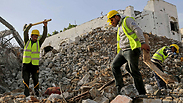 Workers clearing rubble in Gaza
Photo: AP
Israel allowed 14,000 tons of building material into war-devastated Gaza Wednesday, the defense ministry said of the largest single shipment since a July-August conflict ended in the blockaded territory.

COGAT, the coordinating body for Israeli government policy in Palestine, told AFP that some 354 trucks passed through the Kerem Shalom goods crossing in the southern Gaza Strip carrying "construction materials," without elaborating.

Under Israel's eight-year blockade of Gaza, the entry of cement and iron has mostly been banned, with the Jewish state fearing such materials could be used by Palestinian militants to make weapons and build attack tunnels.

But the international community has warned that without serious reconstruction of the coastal territory, where a summer war between Israel and Hamas destroyed or damaged more than 100,000 homes during the 50-day conflict, another conflict could be looming.

The United Nations says that 100,000 Gaza residents are still homeless since last summer's war, which killed about 2,200 Palestinians and 73 people on the Israeli side.

Militant groups in Gaza, under the de facto ruler of the Islamist movement Hamas, fired thousands of rockets at Israel in the conflict and have vowed to rearm.