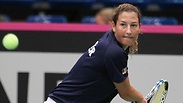 Peer in action on the court
Photo: Nir Keidar, Israel Tennis Association
Ranked No. 11 in the world just four years ago, Israeli tennis player Shahar Peer will celebrate her 28th birthday this weekend; and she is now taking some time to consider her future in the game.
Since the 2011 Australian Open, where she made it through to the third round, Peer has failed to get further than the second round in the 13 Grand Slam tournaments in which she has competed.
This past year has been a tough one in particular – until last Sunday, when Peer, now ranked No. 124 in the world, claimed her first title since 2013, coming from behind to beat Kristyna Pliskova (129) of the Czech Republic 1-6, 7-6, 7-5 in the final of the $50,000 ITF Circuit event in Istanbul, Turkey.
Could these be the last few months of your tennis career?
"I don't know if it's my last year. I don't like to make declarations. I will come to a decision one way or the other based on my belief and my heart, based on what is good for my life. I want to give it my all – either it will work out or it won't; there are no guarantees anywhere. In any event, there's no need to make a big story of it.
"From my perspective, giving it a chance doesn't mean a week or two, but several months. Right now, I have the passion. I want to continue to be successful, but I don't know where it will take me. I don't know if I'll become a better player. I only know that I'm a better and happier person, that I want to do it and that I'm having fun, and that I know I am going to give it my all.
"I've made the decision now; I'm giving myself the chance, and it could go either way. But at least I'll know that I'm not simply hanging around for nothing. I don't know if I'll do well at a Grand Slam or not, if I'll get into the top 100 or not, if I'll win a tournament or not – I'm not concerned about that. I now have a job to do and have to give of myself every day. I've always been a hard worker and have always followed my heart."
Do you think you can cope with the new tennis, the power in the game in particular?
"I don't know if the new tennis is a problem for me. There have always been powerful players, who hit the ball hard and are tough to compete against. I need to improve and admit I have regressed in many aspects of my game; but I think my tennis can be as good as it was a few years ago. As a player who has been on the circuit for so long, I see different things and I believe in myself."
Israeli Anna Smashnova made a career out of playing in small tournaments. Is this the path you have taken now?
"My goal was to compete in small tournaments and win. I wanted to get into the mode of winning again, to experience that sense of victory; and it went well for me last week. In any event, I will continue trying to get into the qualification rounds of bigger tournaments. I'm not afraid to compete in them; I haven't disappeared; my ranking now simply doesn't allow me to qualify automatically. My goal is to compete in the big tournaments; that's the most fun."