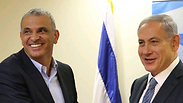 New finance minister with PM
United Torah Judaism became the first faction to enter Prime Minister Benjamin Netanyahu's fourth government on Wednesday night after its leaders signed a coalition agreement with the Likud.

Less than an hour later, Moshe Kahlon signed the agreement to enter the new Netanyahu coalition, after the Likud leader agreed to appoint the Kulanu chief as finance minister.




Under the agreement with United Torah Judaism, the new government will freeze ongoing reforms to Israel's conversion laws, revoke the criminal penalties in the universal enlistment law, and cancel the cuts to the haredi education budget and children's benefits.

Meanwhile, Kulanu will also receive the Environmental Protection Ministry, Construction Ministry, and the Israel Land Administration. The Likud and Kulanu further agreed to raise soldiers' wages and independent contractors' unemployment benefits.

The factions set a target of approving a two-year budget by the Jewish holiday of Sukkot. Kulanu MK Yoav Galant will be appointed as an observer member – without voting rights – in the Security Cabinet.

Maintaining the centrist platform that Kahlon used during the election, he provided no guarantees to the Likud on supporting legislation against the Supreme Court.

"We ended long negotiations which focused on the tools and measures to help us advance reforms," said Kahlon. "The Israeli market needs reforms and we at Kulanu – together with the Likud, the prime minister, and the other ministers – know how to implement them."

He promised that the new government will advance a series of reforms in the housing and banking sectors. "We will work to reduce the gaps in the Israeli society. I am confident that we will receive the full cooperation of the prime minister, from members of the coalitions, and even from the opposition."

According to Kahlon, "these are not sector-based reforms, but those that will help all Israelis – from the city, from the village, from the north and the south without any consideration of religion or ethnicity. That's why I expect the full support of the coalition partners and the opposition factions."

Netanyahu congratulated Kahlon. "Our shared intention is that whoever sits at the government table – and I hope the Knesset as well – will work to help the citizens of Israel by growing the economy, which will reap rewards for everyone."

He added: "I am looking forward to working together; we have spoken at length about the steps we must take together. Not everything appears in the coalition agreement because it was unnecessary. I intend to work with all the power given us by the people of Israel in order to significantly help the citizens of the State of Israel."