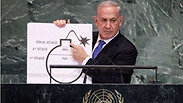 Netanyahu uses cartoon bomb to illustrate Iran 'red line'
WASHINGTON – Iranian Foreign Minister Mohammad Javad Zarif on Thursday took aim at criticism leveled by Prime Minister Benjamin Netanyahu on the international community's framework deal with Iran, calling it "ironic but laughable".

"Netanyahu has become everyone's non-proliferation guru. He is sitting on 400 nuclear warheads," the foreign minister said.

Netanyahu has been a fierce critic of the attempt to reach a deal with Iran over its nuclear program and who went as far as addressing Congress over the issue, to Obama's displeasure. Iran insists its nuclear program is for peaceful purposes.


Speaking at an event in New York on Wednesday, Zarif said his country and world powers will meet Thursday to start bringing together the elements of a draft on a comprehensive nuclear deal, with meetings starting Monday in Europe to finalize all its elements.

The Iranian Foreign Minister said that even though Iran certainly wants to meet the June 30 deadline for an agreement, "no time deadline is sacrosanct."

He met with Secretary of State John Kerry on Monday.

Zarif says Iran expects UN sanctions to be lifted within a few days of a deal. And he expects President Barack Obama will have to stop implementing the US sanctions on his country. "How he does is his problem," Zarif said.

Zarif spoke on the sidelines as world powers meet at the UN to discuss progress on a landmark treaty toward nuclear disarmament.

How sanctions on Iran would be lifted if a deal is reached, and how they might be "snapped back" in place, has been a key question during Iran's months of negotiations with the five permanent Security Council members plus Germany.

Zarif suggested that the world should be concerned any violations of an agreement by the United States, not his country.

"This is not a game," he said. "We have a provision for snap-back if the US fails, so if the US wants to sell this as an achievement, be my guest."

He rejected the idea of Iran and the US re-establishing diplomatic ties if a nuclear agreement is reached, saying it was "to early and too premature." Iran's first priority is its own region, he said.

The Iran talks have also made the country's Arab neighbors nervous. When asked Wednesday whether Iran would object to Saudi Arabia asking for a similar nuclear program arrangement, Zarif said, "We would welcome it" as well as the same opportunity for any other country.

The foreign minister on Monday addressed the global nuclear conference on behalf of more than 100 mostly developing states and asserted that the biggest threat to international peace and security is the continued presence of nuclear weapons in the US and the four other permanent Security Council members, Britain, France, China and Russia.

The second-biggest threat, he said, "is that Israel has nuclear weapons."

On Wednesday, the US Senate rejected an effort to tie sanctions relief for Iran under an international nuclear agreement to a requirement that President Barack Obama certify that Tehran is not supporting acts of terrorism against Americans.

A handful of Republicans joined Senate Democrats to reject by a 54-45 vote a proposed amendment offered by Republican Senator John Barrasso that would have added the terrorism clause to a bill subjecting an international nuclear agreement to review by the US Congress.

The Senate has been engaged in intense debate over the legislation, a compromise version of the bill reached in the Senate Foreign Relations Committee last week in an effort to avoid a presidential veto.

A year-and-a-half before the 2016 election, presidential politics have also influenced the legislation.

Senators Bob Corker and Ben Cardin, the committee's Republican chairman and top Democrat, have been arguing against so-called poison pill amendments seeking to toughen the Iran Nuclear Review Act.

They insist those amendments would kill its chances of becoming law by alienating Democrats and provoking a veto. Obama considers tougher restrictions a threat to ongoing nuclear negotiations between Iran and six world powers.

Cardin had a heated exchange with Senator Marco Rubio, a Republican presidential hopeful, on Wednesday over one of the seven amendments Rubio has filed seeking to toughen the bill.

Rubio wants to amend the bill to prevent a nuclear deal from going forward unless Iran's leaders accept Israel's right to exist as a Jewish state, a measure certain to provoke a veto threat.

Rubio's critics have accused him of pushing the measure to enhance his foreign policy credentials as he fights for the White House. Pro-Israel politics are particularly important to evangelical Christian voters, a key part of the Republican base.

But Rubio accused some of his fellow senators of refusing to consider the amendment because they did not want to take a difficult vote.

Cardin, a Jewish lawmaker known as a strong supporter of Israel, vehemently disagreed and blasted the amendment as a poison pill. "It would make it almost impossible for the president to negotiate an agreement with Iran," he said.

Earlier this week, the US Senate rejected an effort requiring any nuclear agreement with Iran to be considered an international treaty, which would have forced any deal to be ratified by two-thirds of the Senate's 100 members.

The Senate voted 57-39 to reject the measure, which Republican Senator Ron Johnson offered as an amendment to the Iran Nuclear Review Act, a bill requiring an Iran nuclear deal to be reviewed by Congress.

News agencies contributed to this report.