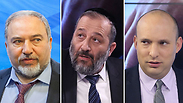 Lieberman, Deri, and Bennett
Photos: Yaron Brener, Omri Efraim, Emil Salman
United Torah Judaism and Kulanu were the first two parties to sign coalition agreements and join Prime Minister Benjamin Netanyahu's fourth government on Wednesday night. Now Likud must focus on efforts to reach agreements with its other three natural partners: Bayit Yehudi, Yisrael Beytenu, and Shas, where substantial disagreements remain.

The prime minister met with Bayit Yehudi Chairman Naftali Bennett on Tuesday night, prior to the agreement with Kahlon and UTJ.

The Likud proposal presented to Bennett, who was Economy Minister in Netanyahu's third government, would take him to the Education Ministry and allow him to retain his position as Diaspora Affairs Minister.

In addition, the Agriculture portfolio will be given to Bayit Yehudi's Uri Ariel, who will leave the Construction Ministry, and Ayelet Shaked will become Minister of Culture and Sports. Bennett also asked to head the Constitution, Law, and Justice Committee in the Knesset and a commitment to pass two significant bills to limit the power of the Supreme Court.

But despite the agreements, knowledgeable sources said the Religious portfolio was still in debate. Likud decided to hand it over to the ultra-Orthodox Shas, but Bayit Yehudi strenuously objects.

There is further disagreement regarding Bayit Yehudi's demand that Netanyahu promise not to freeze construction in the West Bank and Jerusalem and to transfer billions of shekels to the Education Ministry – a budget Bennett seeks to use for changes in the education system. "He's not going to join the Education Ministry to deal with deficits," said a source in the party. "If there is no budget to develop the ministry, it's better to pass on it."

Regarding Shas, a gulf remains between the negotiation teams. Party chief Aryeh Deri is demanding 0% VAT on basic food products, like some fruits and vegetables, but Likud has yet to agree to this. Furthermore, the former Interior Minister has not announced which portfolio he'd like to receive, thus holding up an agreement.

Meanwhile, Likud and Yisrael Beytenu have unresolved issues that mostly revolve around the haredi partners in the coalition.

Yisrael Beytenu Chairman Avigdor Lieberman is resolutely opposed to some of the promises Likud has made to United Torah Judaism, chief among them the removal of criminal penalties in the universal enlistment law and an agreement to alter the reform in Israel's conversion laws that has given local municipal rabbis power at the expense of the central rabbinate.

If these issues are resolved, Lieberman will get the Foreign portfolio and the Immigration and Absorption portfolio, as well as heading a major committee, such as Internal Affairs or Education. If Kahlon gives up the Labor and Welfare Committee, it's possible it will be given to Yisrael Beytenu, with MK Orly Levi-Abekasis at the helm.

Sources in Likud say that despite the disagreements that remain, it appears that most issues can be solved. Whatever happens, the new government will have to be sworn in by May 11.

MK Yariv Levin, chairman of the Foreign Affairs and Defense Committee and a member of the coalition negotiation team, said Wednesday night that he urged Bayit Yehudi, Shas, and United Torah Judaism to set their differences aside and sign agreements as soon as possible.