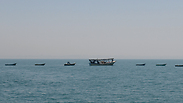 The boats return to Gaza
Photo: IDF Spokesperson
Fifteen fishing vessels belonging to Gaza Strip residents were returned on Wednesday from Israel to Gaza. The boats were seized by the IDF after their owners veered from the maritime area approved for fishing.

The decision was made by the Coordinator of Government Activity in the Territories in conjunction with the Gaza fishermen's association. The boats were returned by Israeli naval troops to the north Gaza Strip.

After Operation Protective Edge, the area approved for Gaza fishermen was returned to six nautical miles.

Since the summer conflict, several incidents have occurred in which naval troops fired warning shots at fishermen who strayed from the approved zone or approached Israeli territory.

The IDF said the decision was made following "a thorough examination of the matter by the IDF and as part of the steps taken to assist the residents of the Gaza Strip."

Military sources added that "in the maritime area adjacent to the Gaza Strip there is a zone that is approved for fishing.

"The security limitations are periodically examined and are determined by the necessity of IDF presence, while considering the level of damage to the civilian population.

"The IDF sees the fishing industry as very important, as it is one of the foremost industries in Gaza, and considers this in relation to the security threat."

Palestinian fishing union chief Nizar Ayyash told AFP the return of 15 boats was welcome but demanded that Israel hand back dozens more vessels still in its possession.

"It is true this is the first time Israel has returned fishing boats... but its forces fire at fishermen before they've even exceeded the imposed limit, especially off southern Gaza," he said.

"There are still 60 boats held by the Israeli navy, and we demand Israel return them," he added.

Last month, Israeli forces shot dead a fisherman and arrested two others, according to Gaza medics. An Israeli army spokeswoman said at the time four Palestinian boats had strayed out of their designated fishing zone, but did not comment on casualties.

Around 4,000 fishermen work in Gaza, more than half of whom live below the poverty line.

AFP contributed to this report.