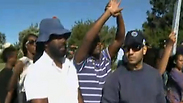 Ethiopians protest racism in Jerusalem: Enough!
Photo: Ofer Meir
Some 1,000 Ethiopian Israelis protested across Jerusalem on Thursday evening against two incidents of police brutality on minority youths. The protesters clashed with police and blocked roads – as well as the light-rail train – in the capital.
The protest focused on "the racism and violence towards Israel's Ethiopians" and saw scores of protesters clash with police. "There are racist cops but they are a minority, the real problem is not the police but the discrimination and neglect," said an officer of Ethiopian descent, who took part in the protest.
Jerusalem District commander, Deputy Commissioner Moshe Adri, tried to address the protesters at the heart of the riot, but his attempt failed. The demonstrators then marched on the Prime Minister's Residence, throwing rocks and glass bottles at police officers tasked with dispersing the riot.
Two police officers were wounded by rock-throwers at the protest. Jerusalem Police said in a statement that it "would not allow protesters to continue violating the order; we will act decisively."
Jerusalem Mayor Nir Barkat arrived at the epicenter of the protest to attempt to calm tensions between the clashing parties. In all, fifteen people were hurt in the clashes, including three police officers.
"We've had enough! No to racism, no to discrimination. Our democracy is at risk. Enough to police violence," protesters said, blocking the entrance to Jerusalem and its main artery.
At first, hundreds of Ethiopians took to the streets in Jerusalem to protest what they say is rampant racism in Israel against the community. The protest was sparked by an attack caught on video in which an Israeli of Ethiopian-descent was attacked by officials from Israel's immigration authority.
Rina Angado, a member of the community, told Ynet "our kids serve in the IDF and then cannot find work. I came here through Sudan on foot to help form the State (of Israel), I didn't come so my kids would be abused by the police and the state. This is the result of 30 years of racism."
Police Brutality
Op-ed: The attack on an Israeli Ethiopian by a police officer left everyone shocked because demeaning the IDF uniform was more painful than demeaning a young man.
Over 120,000 Ethiopian Jews have moved to Israel since chief rabbis determined in 1973 that the community had biblical roots. Some Ethiopian Jews have made it into Israel's parliament and officer ranks in the military, but complaints of discrimination in schooling and housing are common.
'Racist attack'
In the first of two videos that surfaced last week showed police officers assaulting an Ethiopian serving in the Israeli army, who was wearing his military fatigues at the time of the attack.
In the second, Walla Bayach, an Israeli of Ethiopian descent living in Be'er Sheva, is seen being attacked by inspectors from Israel's Population and Immigration Authority.
"They took my shoes and beat me with a crowbar," he said, explaining they assaulted him on Wednesday thinking he was a migrant.
The Population and Immigration Authority presented a different version of the incident, saying that Bayach had assaulted the Immigration inspectors first after they asked him to present identification documents.
Police Commissioner Yochanan Danino met with representatives of the Ethiopian community on Thursday in light of the recent violent incidents between police officers and members of the community.
Bayach left Ethiopia for Israel two years ago. The Be'er Sheva resident was on his way to the city's employment bureau to obtain a Letter of Good Standing (a certificate of absence of criminal record) before entering a new job, when three inspectors in civilian clothes approached him.
"They asked me if I was Sudanese or Eritrean and I told them I was Israeli, although I didn't understand who they were," he told Ynet. "They did not identify themselves, grabbed me violently, twisted my arm and put handcuffs on me."
Bayach says that the inspectors continued to act violently after he was restrained in handcuffs. "They knocked me down, removed my shoes and beat my feet with a crowbar."
"Then, they removed the handcuffs, pulled out my ID card and told me get into a car. I was very scared, I didn't know who these people who assaulted me were, and I ran to the city's employment bureau."
Bayach was questioned by the police about his account of the incident and was taken to the hospital for medical treatment.
"I still don't know what I am guilty of. I never stole or hurt anyone," he said.
Moshe Bata, the director of the Ibim Immigrant Absorption Center in Sha'ar HaNegev, met with Bayach on Thursday morning. "He is a noble man and a father to four children," Bata told Ynet.
"I don't believe that he attacked the inspectors. I know him well, he wouldn't hurt a fly. There were incidents in the past in which immigrants from Ethiopia were mistaken for asylum seekers. There are some people in the Israeli society who are racist towards Ethiopian immigrants."
The Population and Immigration Authority rejected Bayach's claims and said they were false: "In fact, a completely opposite scenario took place. The Immigration inspectors asked Bayach to identify himself as part of their routine operations. He refused to do so and started to assault the inspectors, forcing one of them to seek medical attention. The inspectors filed a complaint and it is being examined."
Reuters contributed background to this story