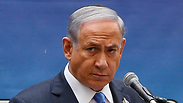 Prime Minister Netanyahu
Photo: Reuters
Netanyahu promises billions of shekels to form right-wing coalition
Coalition deal with United Torah Judaism to include some NIS 1 billion to Haredi education institutes and increased child benefits that will cost NIS 2.5 billion a year; Kahlon initiative to raise wages for soldiers will cost some NIS 1 billion.
Difficult negotiations with potential coalition partners forced Prime Minister Benjamin Netanyahu to show more flexibility than he would have wanted to show, and agree to fund reforms demanded by the right-wing parties that could amount to NIS 8-9 billion a year.

According to the agreement with Kulanu party leader Moshe Kahlon, who is the future finance minister, the new state budget will be approved after Sukkot and will be brought to a vote as a bi-annual budget. Until then, Kahlon, will have to find quite a few sources of funding for commitments made by Netanyahu in the different coalition agreements.

United Torah Judaism decided not to fight over portfolios in the upcoming government and announced ahead of the talks it was willing to settle for a deputy minister position in the Health Ministry and for the chairmanship of the Knesset's Finance Committee. However, the party's budgetary demands were much bigger and were incorporated into the coalition agreement UTJ signed with the Likud.

According to political sources, at least NIS 1 billion have been allocated for Haredi education institutes as part of the coalition agreement with UTJ.

In the last term, former finance minister Yair Lapid's Yesh Atid party set a condition to the funding, by which the budget would only be released if Haredi educational institutes offered core curriculum studies (English, math, science, modern Hebrew, ect.). This condition will be revoked in the upcoming term.

The reinstating of the Nahari Law, which obligates local authorities to fund non-state (usually Haredi) schools, will cost some NIS 200 million a year.

Finance Ministry officials said it's possible some of this money could come from the existing Education Ministry's budget, money that would've gone to the state-religious education regardless. They added the possibility of adding NIS 1 billion to the education budget for Haredi schools was less likely.

According to the Finance Ministry officials, the above NIS 1 billion sum includes: NIS 510 million for yeshivas; NIS 40 million to promote ultra-Orthodox religious culture; NIS 75 million in additional funding for Haredi schools that do not offer core curriculum studies; NIS 30 million to fund a pay raise to kindergarten teachers in the Haredi sector; NIS 100 million for Haredi summer camp programs; NIS 120 million which are defined as "coalition funds"; and NIS 150 million were allocated to a mysterious clause titled "management and incentivisation."

United Torah Judaism also demanded to reinstate a reform that provided children under the age of 18 with free dental care, which will cost some NIS 240 million.

Child benefits, which were lowered last term, will be raised to their original sums and cost some NIS 2.5 billion a year. In 2015, child benefits will increase starting May 1, which means they will only cost NIS 1.5 billion.

As part of his coalition agreement with Sephardic Haredi party Shas, Netanyahu agreed to include a commitment to cancel VAT on basic foodstuff, which will lose the state NIS 1.2 billion in tax revenues. Economic and political sources, however, say the chances the 0% VAT on basic foodstuff initiative will be implemented are slim.

Shas has also demanded to allocate 5 percent of each construction project on state land to public housing, which will necessitate the construction of 700 public housing units a year, amounting to NIS 650 million.

Kulanu leader Kahlon's initiative to raise wages for conscript IDF soldiers will cost the state NIS 1-1.3 billion. The implementation of the Alaluf Committee to Fight Poverty's recommendations, another one of Kulanu's demands, is estimated to cost NIS 800 million a year. At present, however, it remains unclear which of the recommendations will be implemented.

Bayit Yehudi leader Naftali Bennett, who is expected to be appointed education minister, demanded funds to improve upon the entire education system, a move that would cost some NIS 1 billion. This demand, however, has yet to be agreed upon.

In addition to all of the different demands from the future coalition partners, if Netanyahu decides to raise the amount of ministers in the government to more than 18 ministers and four deputy ministers, such a move would cost over NIS 60 million a year, and does not take into account the funds each minister would require for his ministry.

Telem Yahav, Akiva Novik and Yuval Karni contributed to this report.