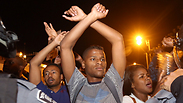 Ethiopian Israelis protest discrimination and violence in Jerusalem.
Photo: Gil Yohanan
Ethiopian Israelis describe long history of discrimination
A video depicting a police officer brutally beating an Ethiopian-Israeli IDF soldier for no visible reason sparked outrage in the Ethiopian community; several describe similar instances - the only difference was there was no camera to document them by chance.
Recently documented incidents of violence against Israelis of Ethiopian decent are just "the tip of the iceberg," say Ethiopian activists, who described a long history of racism which manifests in police brutality and discrimination on a regular basis.

Some 1,000 Ethiopian Israelis protested across Jerusalem on Thursday evening in the wake of the publication of two incidents of police brutality against Israeli-Ethiopian youths. The protesters clashed with police and blocked roads as well as the light-rail train in the capital. Three policemen and 12 protesters were hurt in the violent clashes, where demonstrators threw rocks at police. Two protesters were arrested.

Ethiopian Israelis protest in Jerusalem. (צילום: לירן תמרי)

Yayo Abraham, 30, one of the prominent activists in the Ethiopian community, claims that "policemen stop us on the street without cause, and Interior Ministry inspectors identify us as Eritreans."

The two recent cases of violence against Israelis of Ethiopian descent were the "straw that broke the camel's back," Abraham says.

Abraham, who marched from Kiryat Malachi to Jerusalem two years ago during the previous protest, says: "We're being discriminated against when applying for jobs or school. Police brutality is only a part of the problem. These issues have been going on for dozens of years."

Ethiopian Israelis protest in Jerusalem. (צילום: עפר מאיר )

"Until there is a society and a leadership here that want to fix things, nothing will change," Abraham says. "The protests were predictable and it won't stop here because there's a lot of rage, a lot of poverty and a lot of distress. Every one of the people who came here can tell you about instances of discrimination, racism or violence they experienced."

Moshe Malako, 19 years old from Petah Tikvah, came to Israel at the age of 8 and has since faced a slew of racist experiences.

"One of the instances I remember well was a year ago when a bus driver refused to let me on the bus. There were free seats on the bus, and I couldn't understand why he wouldn't let me on," Malako says.

"All of a sudden a Sabra white Israeli came with a bus pass and he was allowed on. I asked the driver why he wouldn't let me on and he just ignored me and wanted to keep driving. I didn't let him and insisted the door not be closed. He started yelling and in the end, only after other passengers got involved, he let me on the bus."

Malako, who will soon enlist in the IDF, went on to say that "It's clear to me that this incident, like others, only happened because of our skin color, which a lot of people in Israel don't like. People think Ethiopians are second-class citizens that can be walked all over. My friends and I came to protest today to say this is it. My dream is to be a combat soldier, but in conversations I had recently with friends who finished the army, questions were raised on whether this was the right way. There are people who gave everything and were released without anything."

On Thursday, Walla Bayach, a new immigrant from Ethiopia who lives in Be'er Sheva, said that Immigration Authority inspectors beat him harshly because they suspected he was an illegal immigrant. Earlier this week, a video was made public of an Ethiopian IDF soldier being beaten by a police officer without any visible reason.

Avi Yalo, 32, a social activist who coaches Ethiopian youth, says that harassment by police against Ethiopians is something that happens repeatedly. Yalo, a resident of Kiryat Ekron who made aliyah to Israel at age five, said: "Recently, I left the house with my car in order to meet up with friends. Police officers stopped me, delayed me for several minutes, and began asking me when I bought the car and if it was mine. It was because of my ethnic origin and it's obvious that these things happen all the time."

"The police are not the only source of discrimination and racism against us by the establishment. It is not coincidental, but rather the behavioral structure of society and the authorities in Israel. Police brutality is just a symptom and the case I described, just as many other situations that are even worse, do not happen to white Israelis. The black Jew in Israel has been discriminated against for decades in every aspect and every sphere," said Yalo.

Blay Megus, a 35-year-old from Lod, also attested to repeated and frequent harassment. "Ever since age 15, I have not been allowed in to clubs – it's always 'just for those invited' or 'the place is closed' and several other excuses. These are excuses that only blacks hear."

"Let's set a date, me and you, and try to enter a club, and we will see who they let in. We experience discrimination and humiliating treatment from Israeli society every day," added Megus.

Solomen Varko, 40 year-old and from Lod, echoed Megus' feelings. "I'm here because of the pain of my children, who experience discrimination every day from society. I served nine years in the IDF and I am still a second-class citizen when it comes to finding a job, managing a business or the country's investment. What happened to the soldier that was beaten happens every day, the difference is that there was a camera this time," said Varko.

Matan Admaka, also had something to say about the recent video which showed the brutal beating of the Ethiopian IDF soldier. "The point of the protest today is to get that policeman behind jail bars. The camera caught him 'by accident' – this is one of many such incidences. My friends and I have also experienced violence. We got hit by officers for no justified reason; nobody heard or knew of us."

Moshe, 21 years-old and from Beit Shemesh, also experienced an episode of police brutality. "It happened half a year ago - they took me into the police patrol vehicle because someone had driven my car. They found that there was no alcohol, but an argument emerged between me and the officers, and then they began punching me and used a taser.

"I was taken to Hadassah Medical Center, and after I was released from the hospital I went to complain at the Police Investigation Unit but my complaint was denied because they said I had attacked four police officers. My hand and legs were handcuffed, so how could I have attacked offiers? One of the officers even said to me, 'So do you have money to file a complaint on me?' Unfortunately, these are things that only happen to black people. Whoever is not black has not experienced this. Period," said Moshe.

During the protest Thursday, Rina Engedau, 50 years-old and a mother of five, called out on a speaker phone: "Stop violence and racism. Our children serve in the army and don't get jobs."

"I came from Sudan to Jerusalem by foot so that I could develop the nation, not so that police and the nation would harass our children. There are 30 years of racism here," she called out.

Engedau reiterated the calls of many others at the protest who described a dark reality for Ethiopian Israelis who face discrimination despite their contribution to the country.

"Enough. These children were born here. It's a new generation, let them live quietly, let them work – they were in Golani, they were combat soldiers," she said.